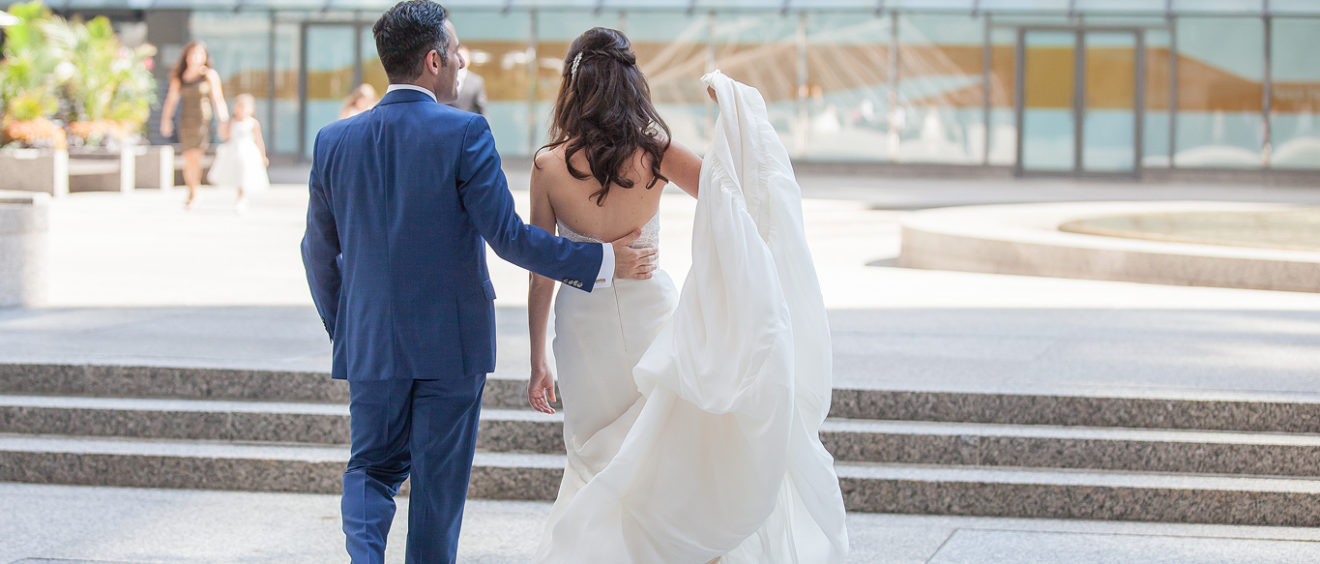 The Isaacson wedding at Jump
This Sunday I spent the day capturing the lovely Isaacson wedding held at Jump in downtown Toronto. A more perfect wedding day would be difficult to find!
Liz and her ladies spent their morning getting ready in a gorgeous luxury suite at the One King West Hotel. The views over Lake Ontario and the cityscape are incredible from the 35th floor, and the entire space was flooded with light (and laughter). There was also enough space for all of us to spread out and get comfortable. Melissa from Salon Goulart set up in one room to do everyone's hair, and Alexandra from Atracktive Makeup had a private nook, surrounded by windows to do everyone's makeup.
We decided to do a romantic reveal of Liz in her spectacular dress by Blush by Hayley Page from Sash and Bustle for Ezra before the ceremony. This meant that Ezra and his guys could join the fun in the hotel suite, before we all headed over to Jump together. I know that Liz and Ezra would agree that their wedding party crew is legendary. After having spent a day with them, I can now see why Liz and Ezra chose to not officially designate a single best man and maid of honour.
The hotel offered up endless possibilities for beautiful photographs. On our way down to the lobby we found this corner, which was perfect for a quick set up. During their engagement session, we created a few images that friends dubbed the "president and first lady" photos. It happened again on their wedding day. Ezra and Liz definitely get my vote.
We took the 3 minute walk from the hotel to the Commerce Court courtyard outside Jump – and couldn't resist including the elephant sculpture in a few images. We also secured a permit to shoot inside the Art-Deco North Tower with its gold coffered ceilings. I will share a few of those images shortly.
Finally, it was time for the Bedeken and the wedding ceremony. Rabbi Steven Schonblum officiated, and made us all laugh and cry. Shortly before the ceremony, he turned to me with a huge smile and said that this is one of his favourite parts of his job. I have to agree – being even a small part of someone's wedding day is really special.
I don't think Liz's feet touched the ground on the walk back up the aisle!
The evening's festivities kicked off with an elegant cocktail hour on the patio and inside the restaurant. I love the simple, clean table decor. The wine rack wall and dark leather and wood don't need much embellishment.
One of my favourite wedding traditions is when the guests dance the Horah, and then hoist the bride and groom into the air on chairs. Liz and Ezra's guests took on this task with gusto!
There are endless moments to cherish and celebrate throughout a wedding day. This is just a little sneak peek of Liz and Ezra's for you. Pop back in a couple of weeks from now for much more!