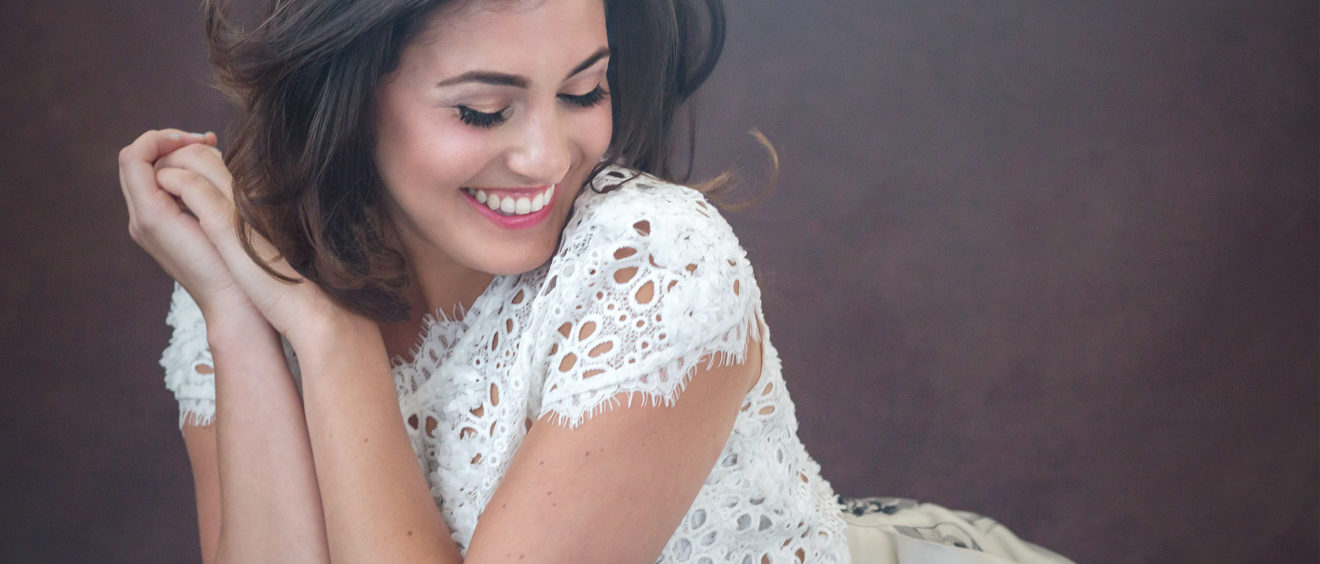 Callie from Rent Frock Repeat rocks her Portrait Photoshoot
The third instalment of my beauty portrait series in partnership with Rent Frock Repeat is here! Today we celebrate the fun and bubbly RfR stylist, Callie! Her outfit choices definitely reflect her vivacious personality. I love that she chose a skirt for her second outfit. When I pick something to wear to an event, I kind of forget that separates are an alternative option to a dress. A beautiful option!
During each shoot, we try to capture something unique and unexpected. It is always exhilarating when a client exclaims that they have never seen themselves like this before. I feel that we have done that with Callie's portraits. She brought a bit of sultry softness to the final photographs, which I love!
Usually I'd steer clients away from wearing really boldly patterned clothing in their portraits. The goal is to focus all of the attention on the person in the photograph, with the clothing as window dressing only. But Callie's sparkling brown eyes and her magnetic presence could not possibly be overshadowed by any outfit, so we went for it! This RfR stylist knows her business. Even her clean and simple before photo is beautiful and dynamic.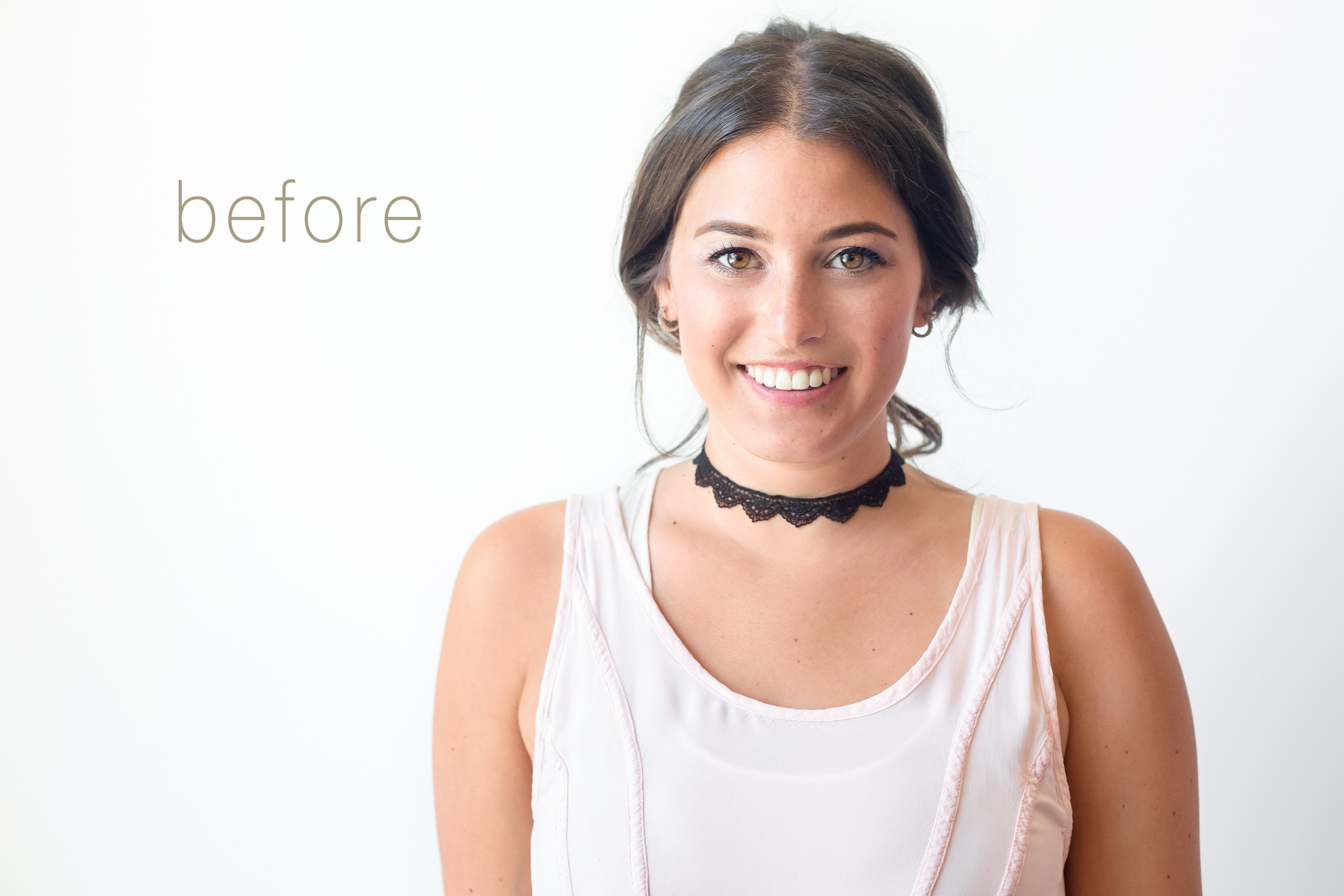 The first of Callie's chosen outfits is this bright and happy ML Monique Lhuillier Sleeveless Capri Lipstick Dress. I love how it shapes around Callie's curves, and the length makes it look chic and a little vintage.
If we could have shot Callie in this dress on location, I would want a vintage convertible car as our backdrop, and a silk head scarf and gorgeous sunglasses as props to play around with. Next time!
My new favourite lighting set up worked perfectly for Callie and her candy-coloured dress. I love how the light highlights her hair! A photoshoot is also never complete until we have added a bit of fan-action. It brings beautiful movement into a portrait. Somehow Arwa from Brushes & Blushes manages to style hair so it will fly so photogenically! Callie brought the rest of the magic.
"I have never been professionally photographed as a model! I never realized how hard it was to put your body in the perfect pose! My whole body was sore the next day!" – Callie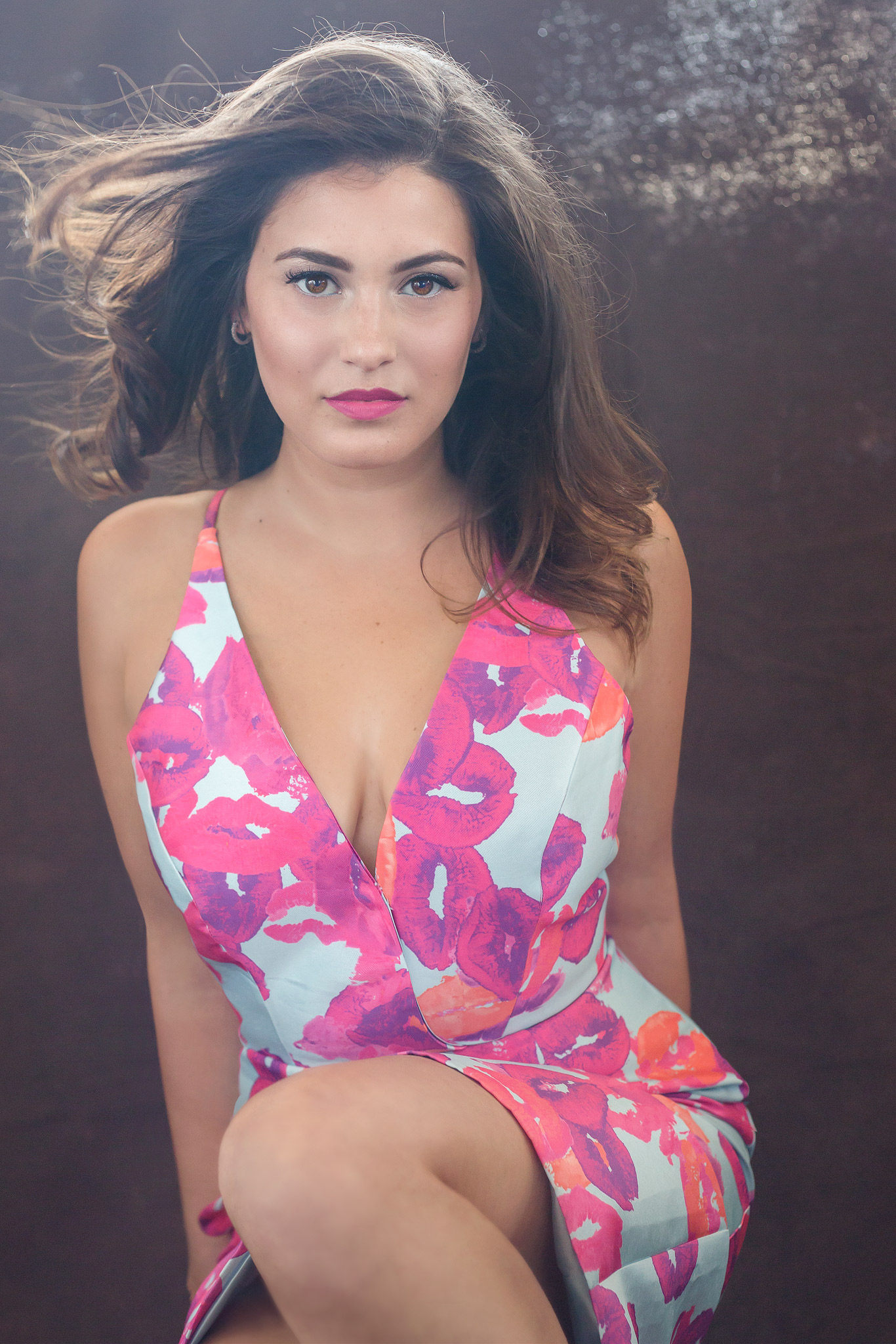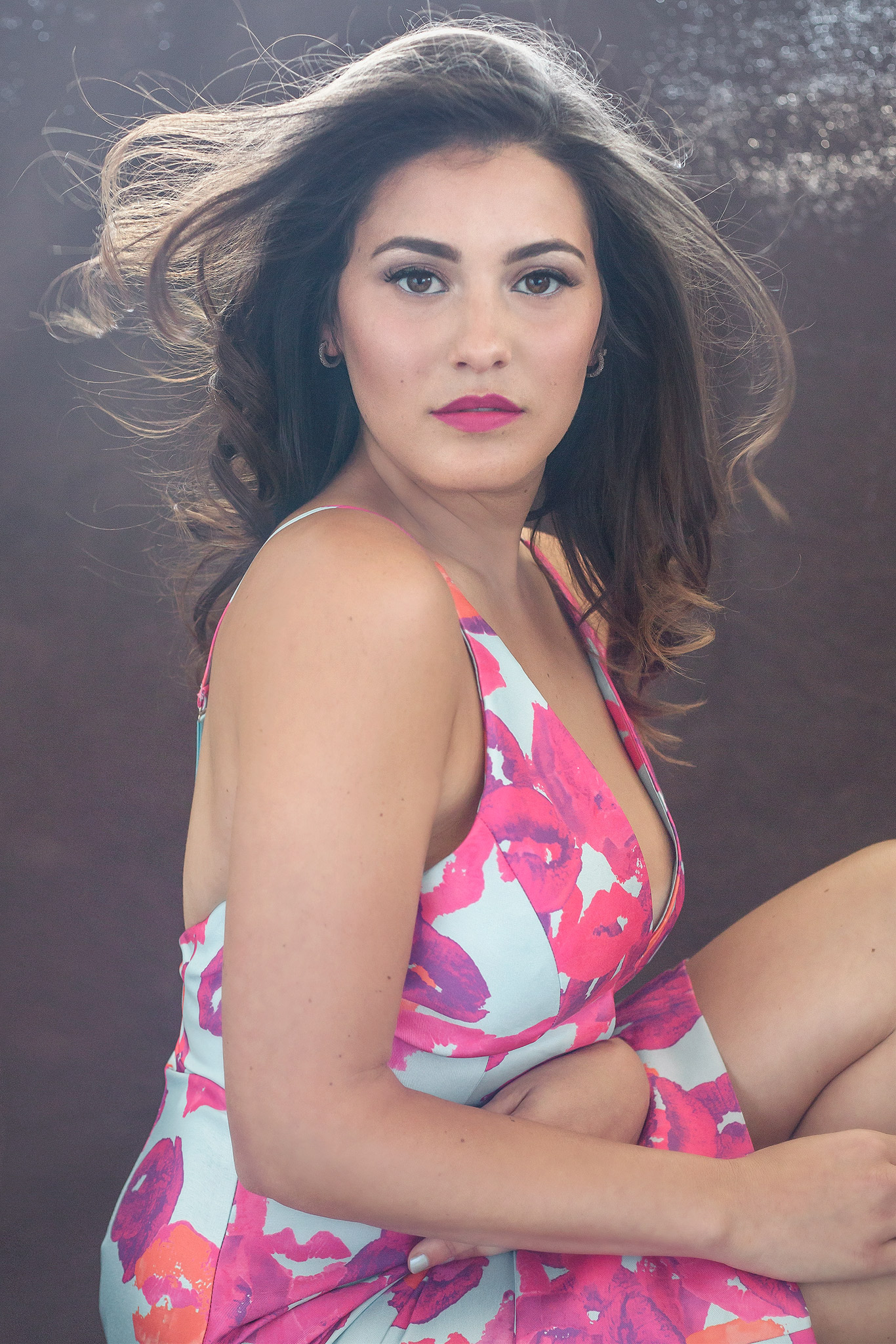 The second outfit that Callie chose is this soft and feminine Noir by Sachin and Babi Floral Print High Low Skirt paired with a lacy top from her own closet. This outfit called for a bit more volume in her hair and a softer lip colour. I may have read too many fantasy novels in my life, but to me, Callie looks like a gorgeous travelling fortune teller in this outfit.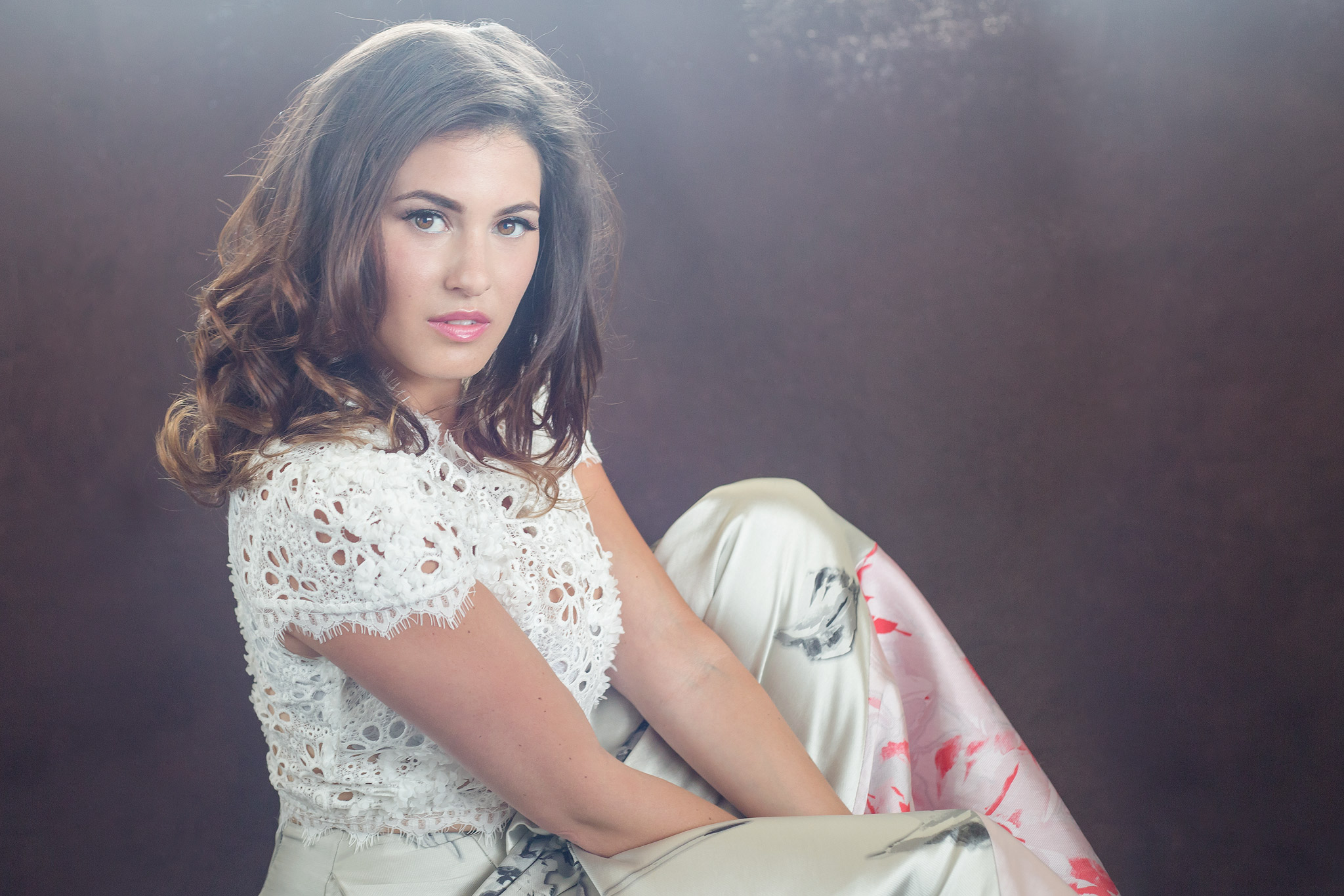 I chose to shoot her seated in this skirt, so unfortunately it doesn't show off the lovely structure. But, if you click on the skirt's name above, you can check out different angles of the skirt on the RfR website.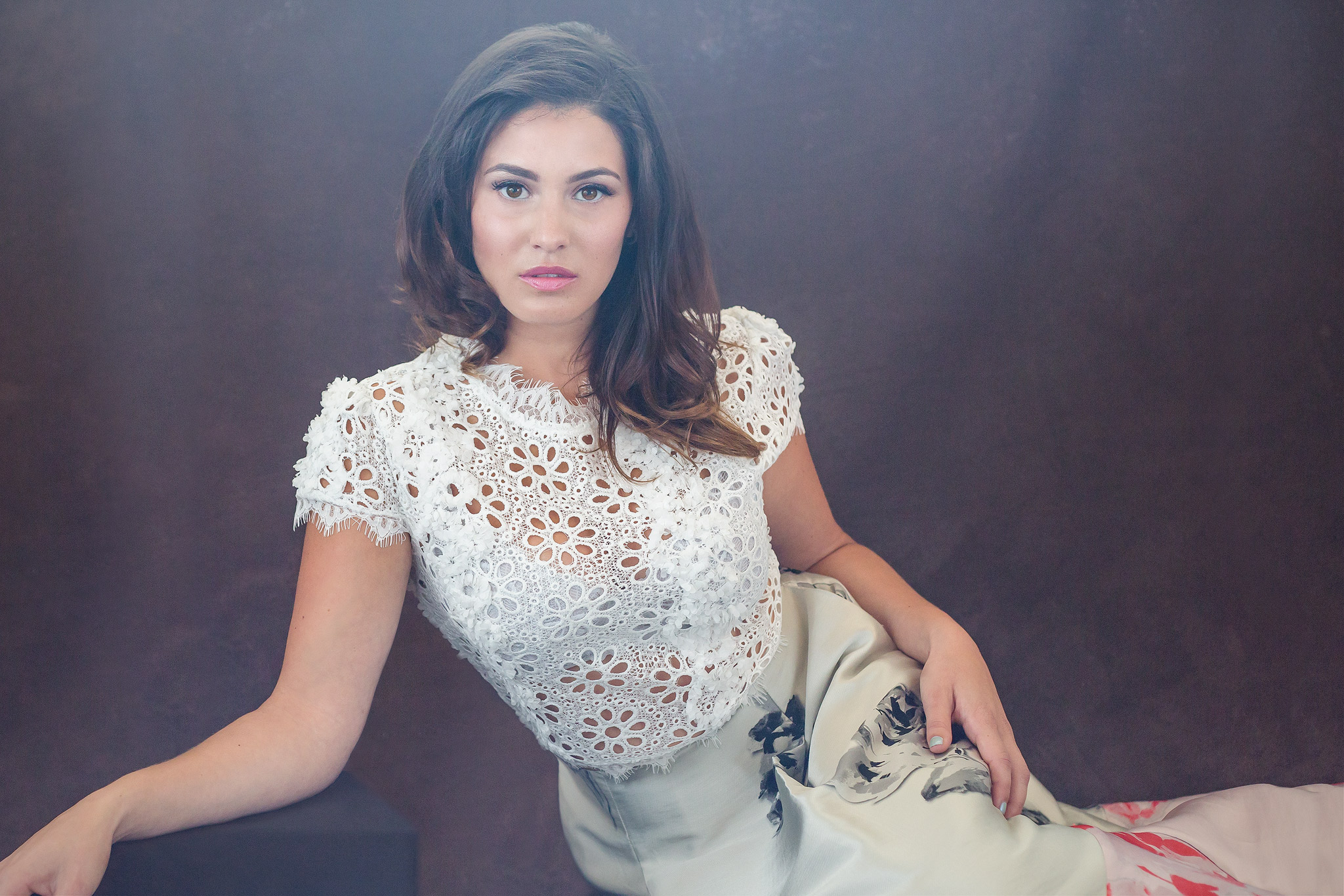 We'll end with a lovely quote from Callie that made my day, and makes me feel so grateful that I get to do what I do! I would love to work with you again, too Callie!
"Carole is amazing at what she does. She has a vision and knows exactly how to make it happen. It was an amazing experience and I would love to do it again!" – Callie
Check out the Rent Frock Repeat team's blog about RfR stylist Callie's photoshoot experience: HERE
Team Credits:
Photog – Carole B Eves
Behind the Scenes photos and video – Renata Pollock Photography
Wardrobe and models – Rent Frock Repeat
Hair and makeup – Arwa from Brushes & Blushes