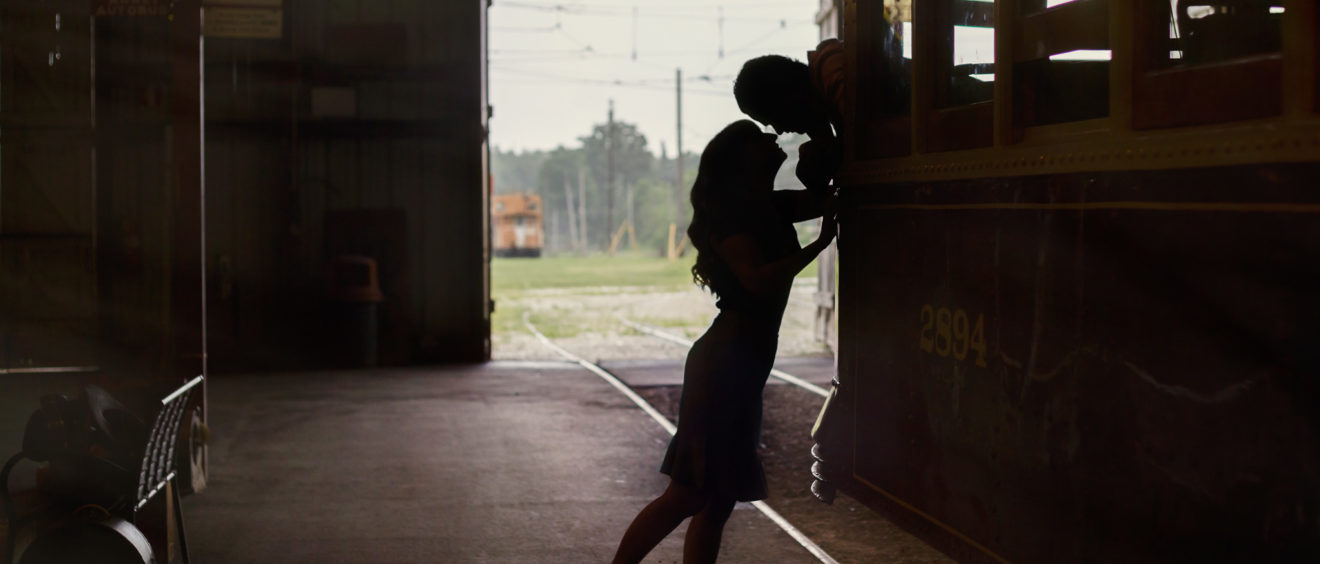 Vintage Streetcar Museum Engagement – Jessica and Jarod
What could be better than spending an afternoon shooting a vintage streetcar museum engagement session with a fantastic couple?! Adding in an ice-cream break, of course! Jessica and Jarod both love the classy style of the early 20th century. They also wanted to have a bit of fun creating a storyline that represents the journey that they are about to embark on together. They brought along personal items that belonged to their grandparents, that we could incorporate into our day. Jessica's grandma's fur stole and Jarod's grandpa's well-traveled suitcases added a lovely spark of magic to our photoshoot.
Our location could not have been better! The Halton County Radial Railway opened their doors to us, giving us the run of the place. We had a great time getting to know a couple of their team members, and were blown away by their kindness (hi Bob!). This vintage streetcar museum does great work – lovingly restoring historic electric railcars, and sharing their passion with visitors every day. They have fully operational vintage streetcars that take you on a ride around the property, and an enormous warehouse that is jammed with beautiful pieces of history.
The vintage TTC station location
The first location is Rockwood station. You can also see the red 1921 TTC streetcar in the background of a few of the portraits. We also had the chance to hop aboard for a few photographs!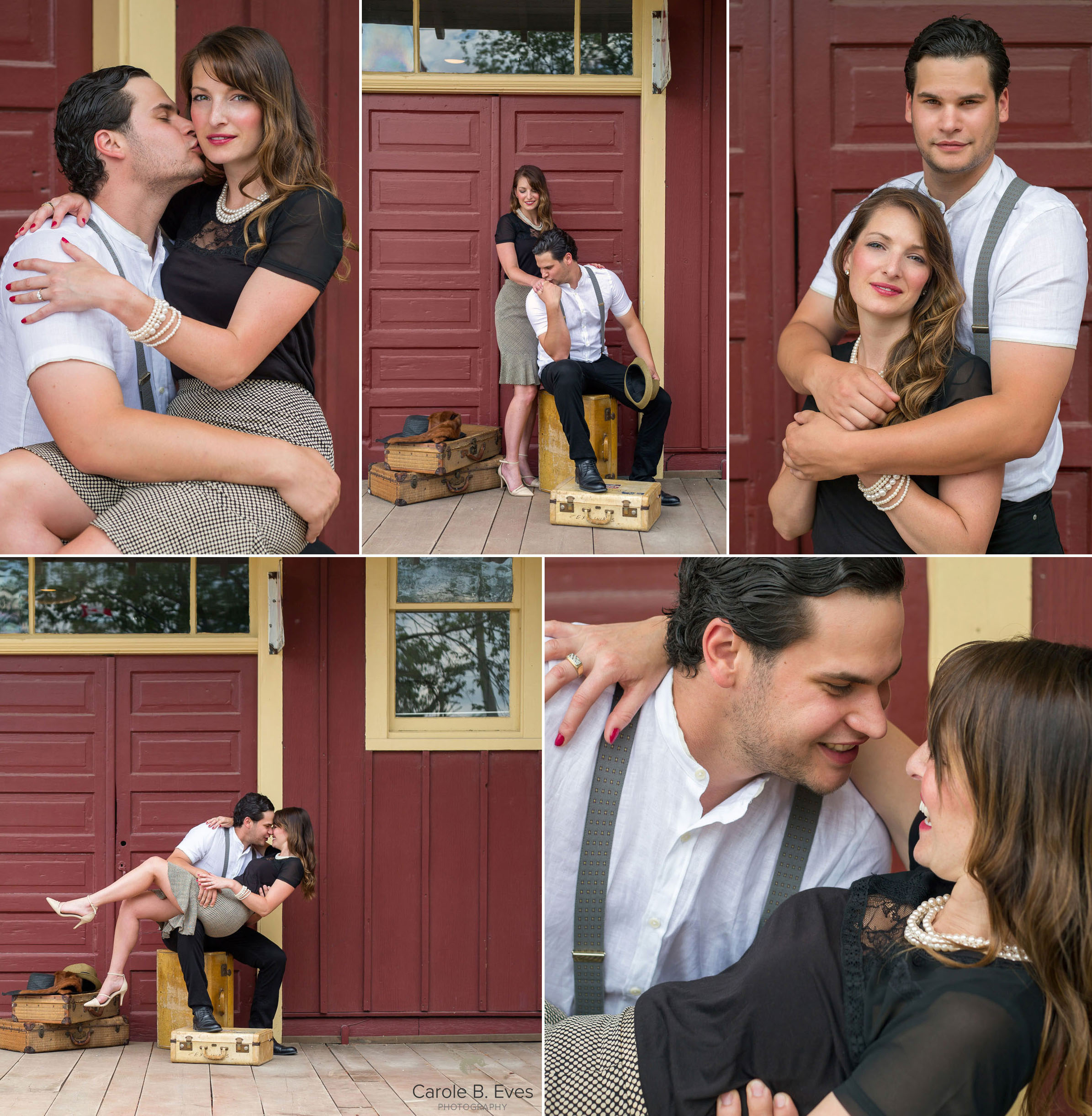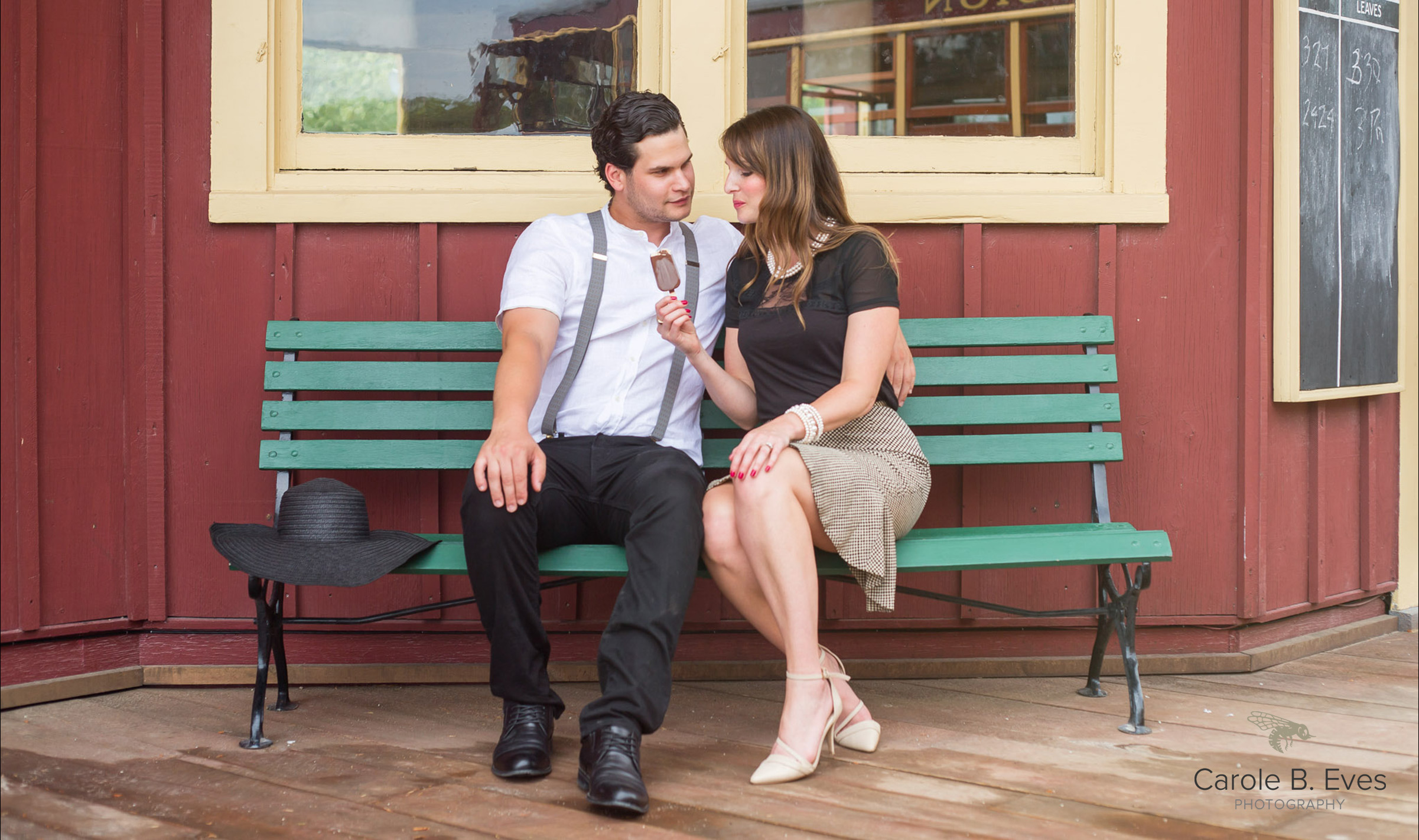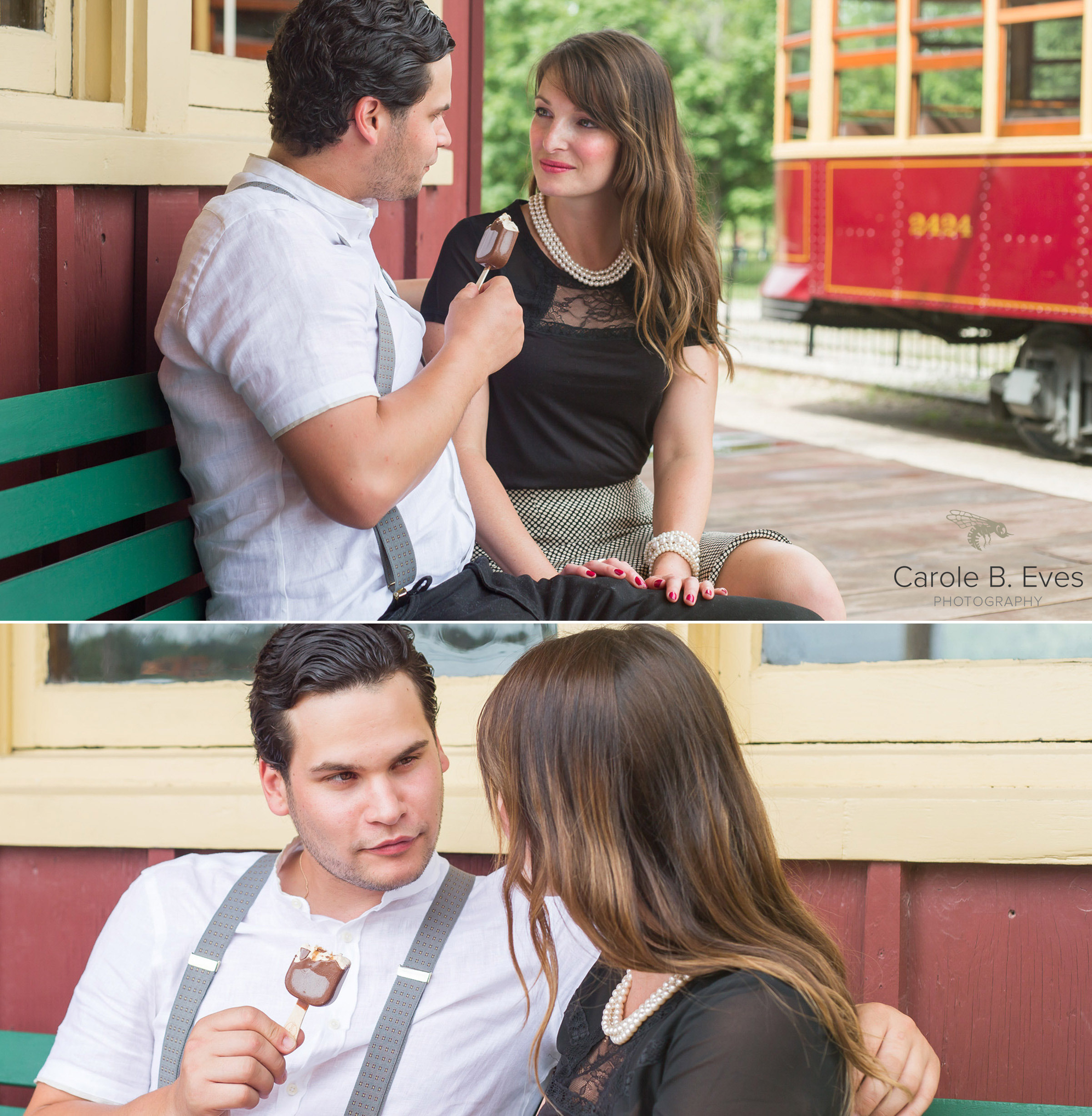 A champagne picnic in the streetcar museum garden
Next up, we wandered around the lush gardens and found the perfect picnic spot. Jessica and Jarod love the outdoors, so we couldn't pass up a chance to enjoy the green space. It also gave me the opportunity to tuck myself into hedges and (elegantly) tip over backwards into the shrubbery, to create some of the below moments. If anyone fancies surprising Jessica with a bottle of bubbly – her favourite is the Yellow Tail Bubbles Rosé :)! We didn't really get to indulge in the bubbles during the photoshoot (I tip into shrubbery without any help) – but, an authentic prop is always a good idea.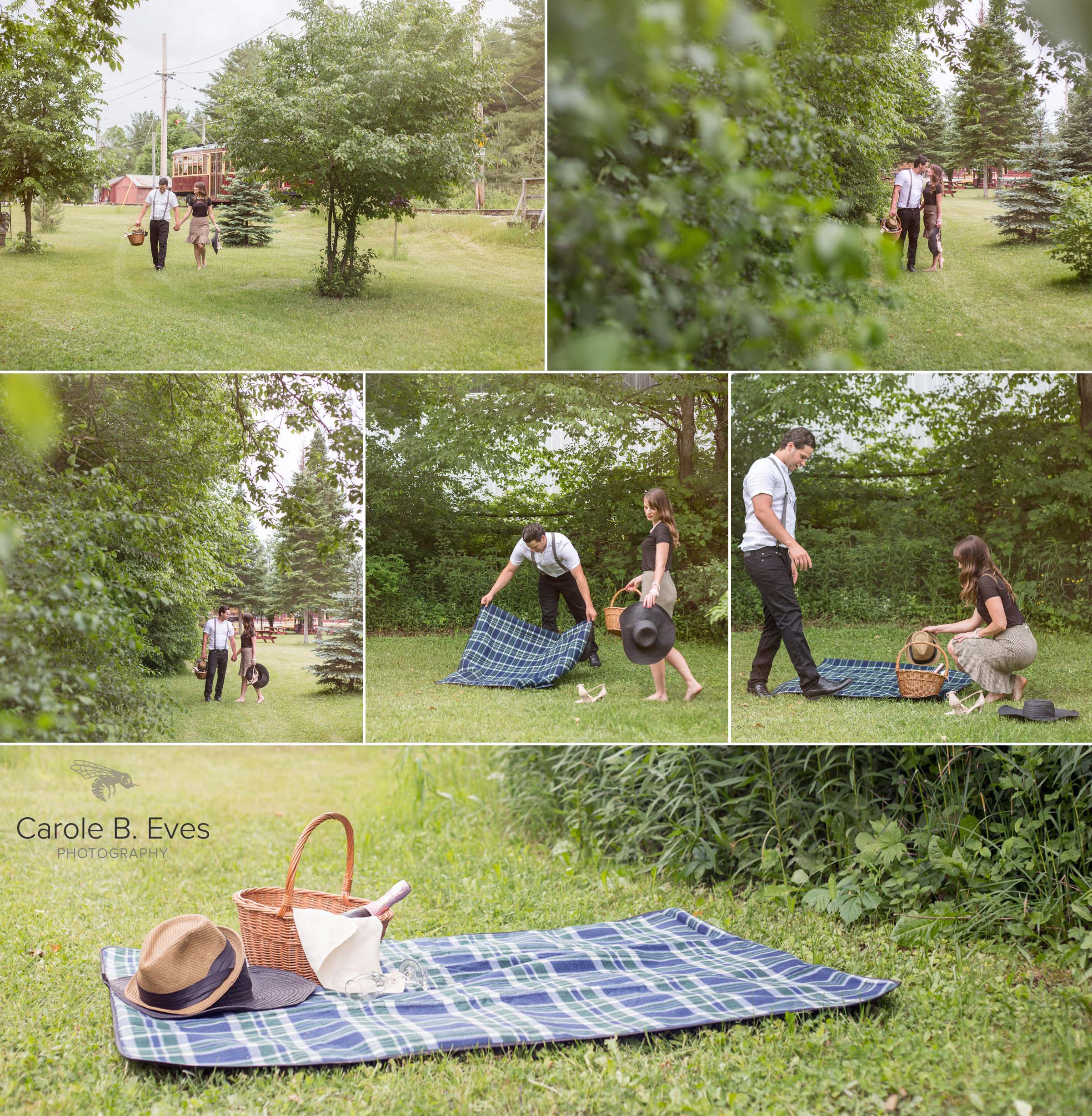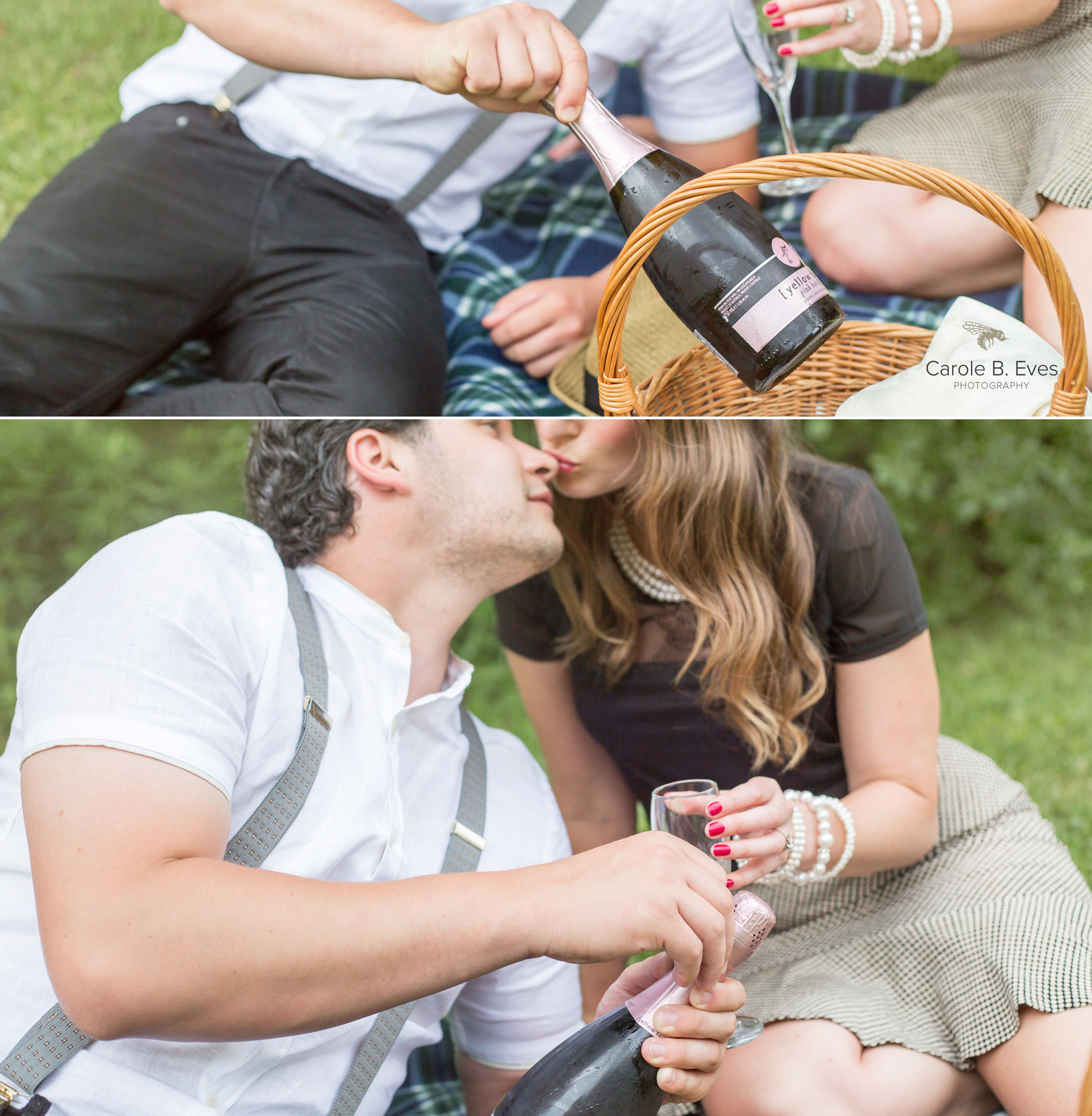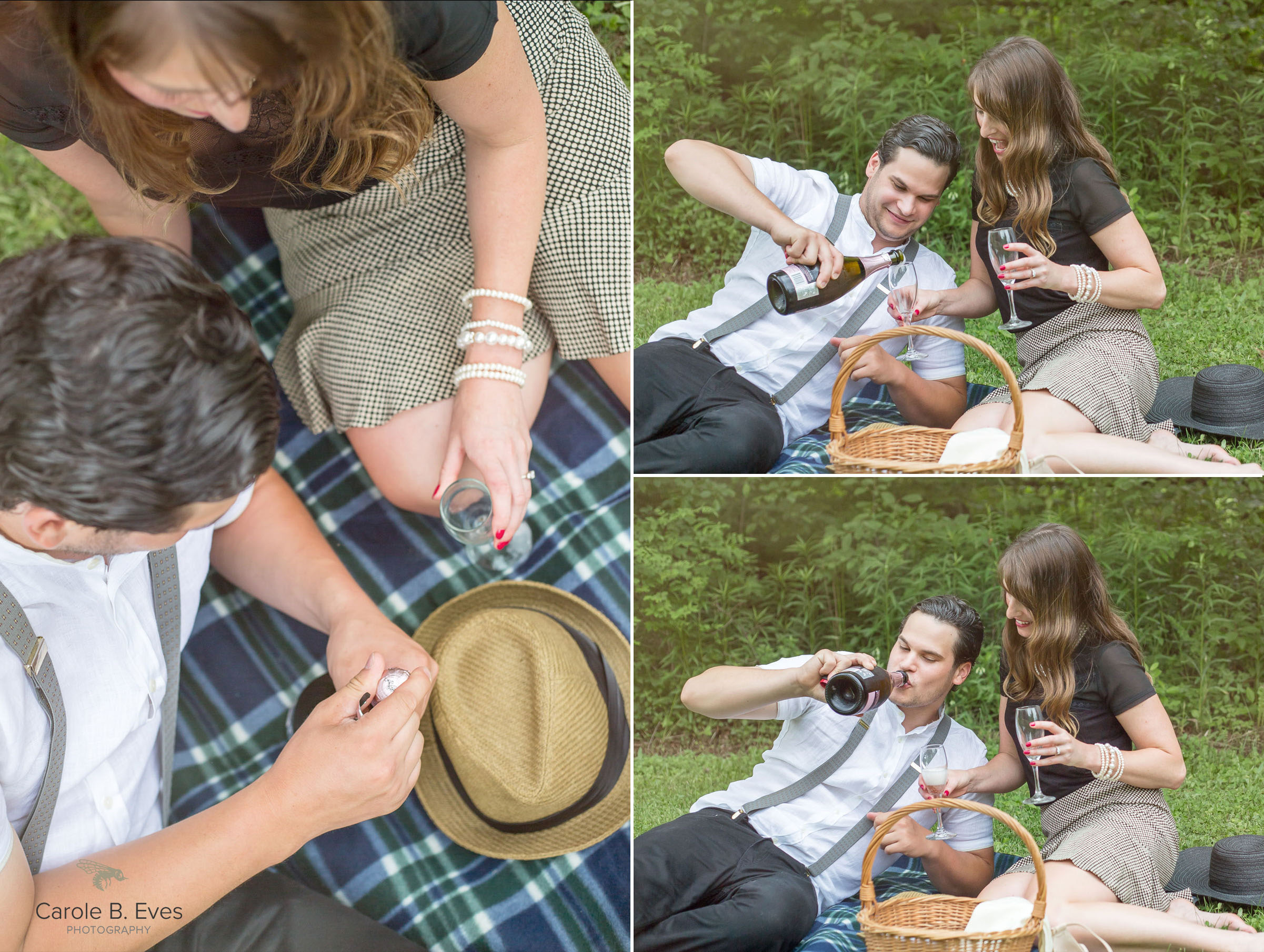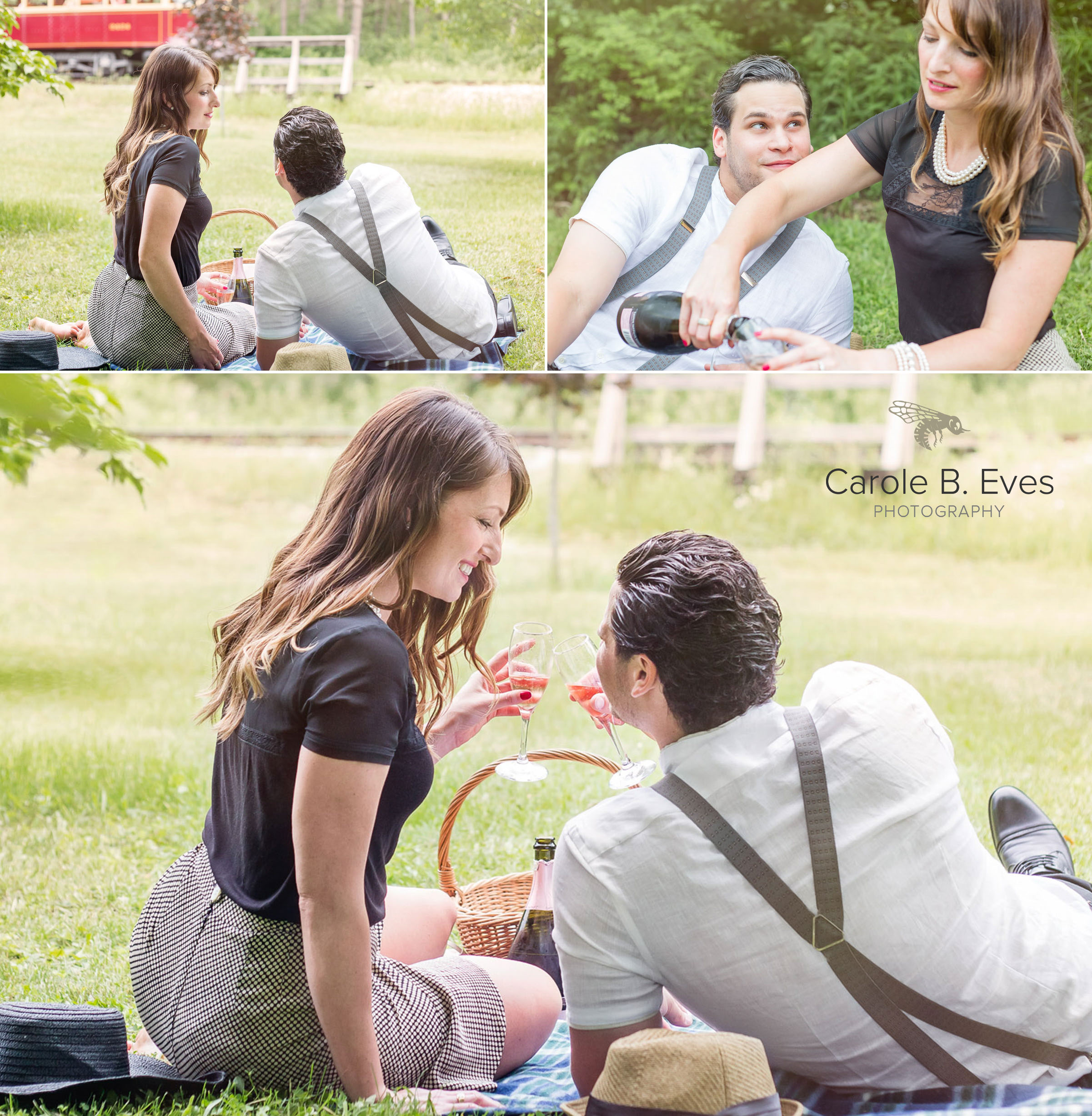 Hop on, hop off a vintage streetcar or three
The warehouse was up next – and just in the nick of time, as well. The heavens opened at that point, and we enjoyed the roar of a massive thunderstorm from the safety of the rest of the vintage streetcar collection. One of our favourite things were the original ads displayed in one of the streetcars. The woodwork and elegant light fixtures are also absolutely fantastic in there! You can't help but have a bit of a dance:).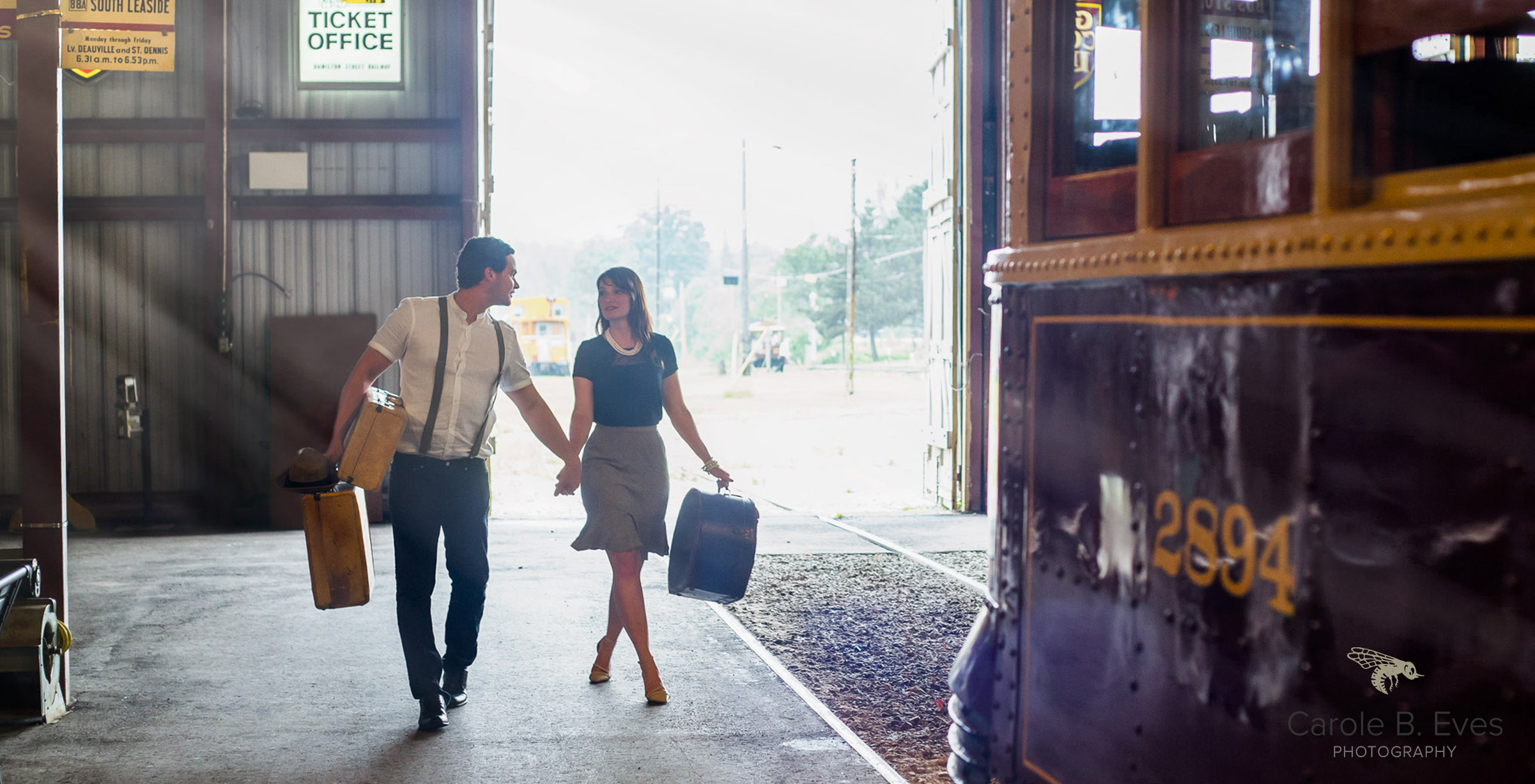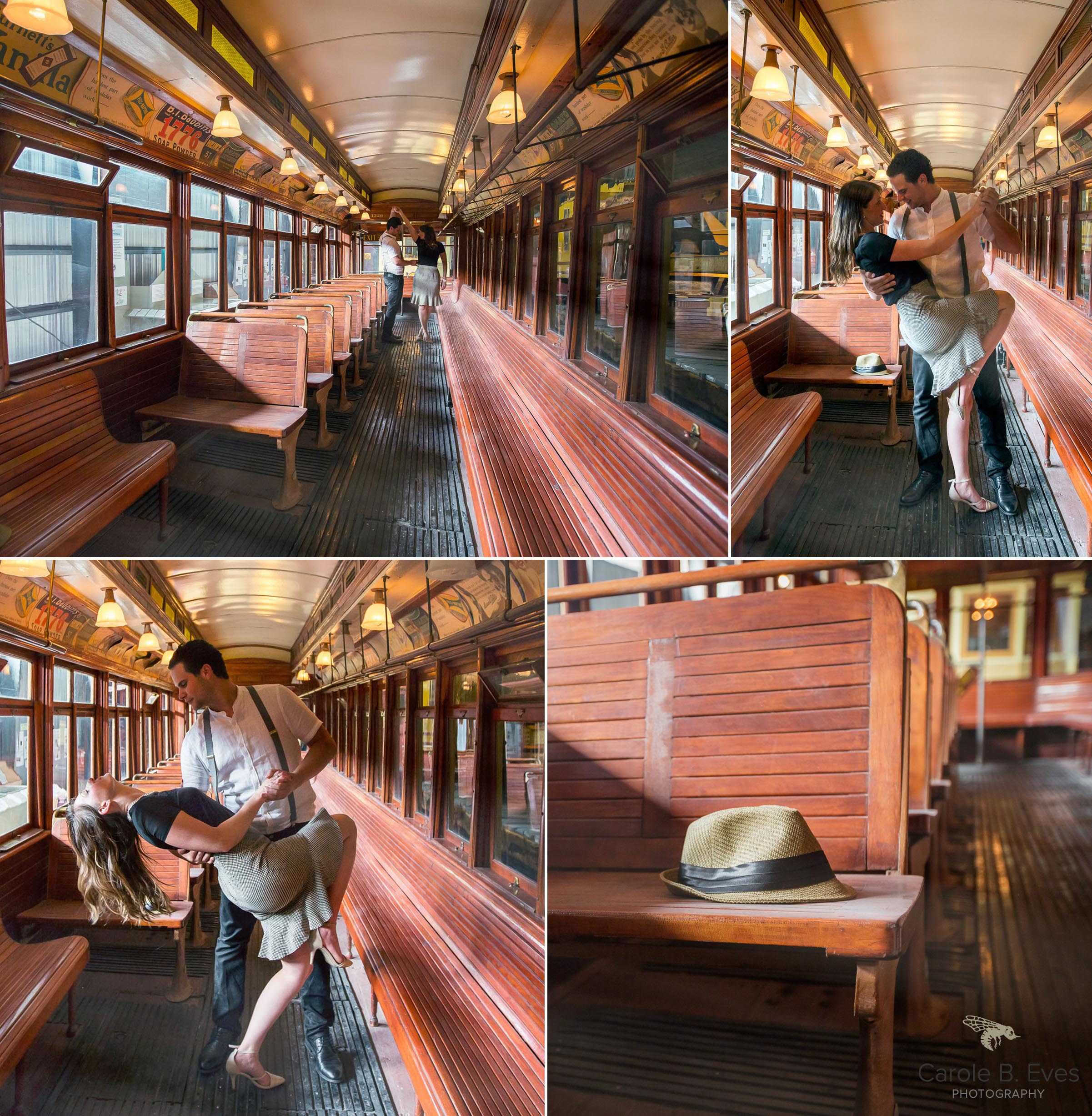 Now, you should ALWAYS be extremely careful working around trains, streetcars and tracks of any kind. We would never attempt the below kinds of portraits on any working track. So, we were thrilled to be in a safe place to create these romantic vintage-inspired portraits.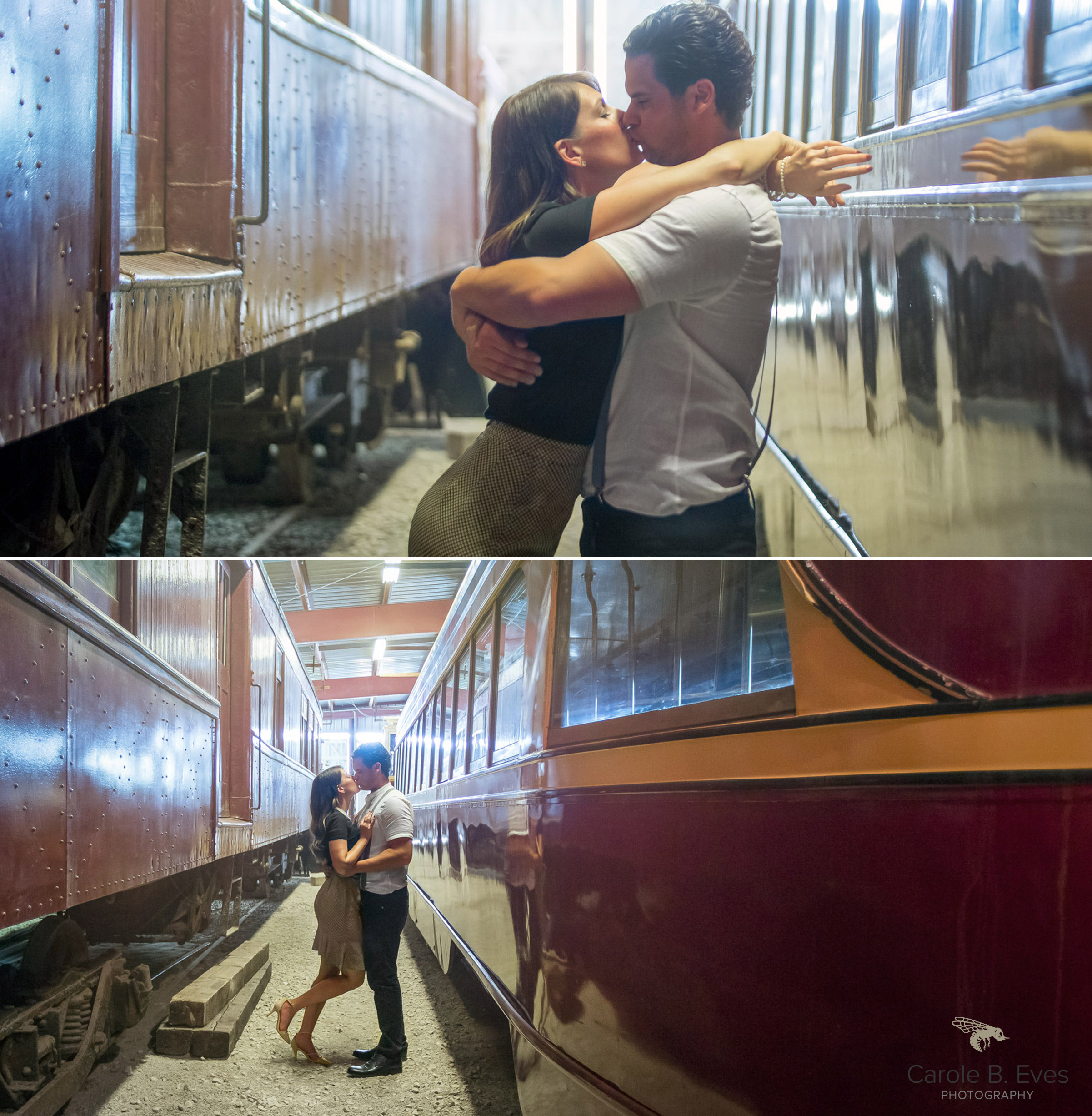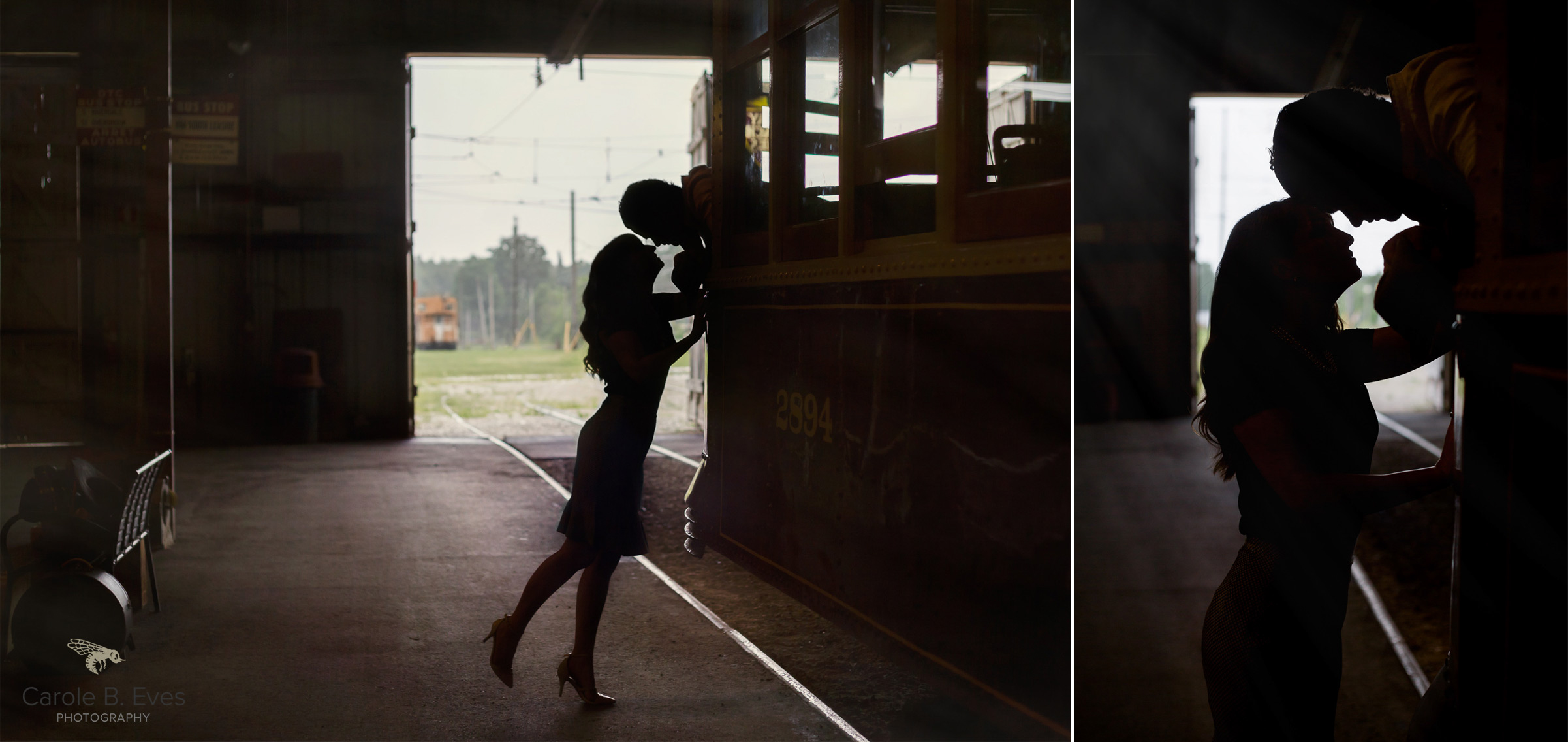 Thank you Jessica and Jarod for putting your engagement photoshoot in my hands, and for trustingly jumping into each scene alongside me. You were so great to work with, and I can't wait for your upcoming fall wedding on the family farm! We will create even more beautiful portraits together.
A thank you to Jessica's hair stylist Whitney for getting her hair ready for the day, and again to the team at the Halton County Radial Railway for your kindness.