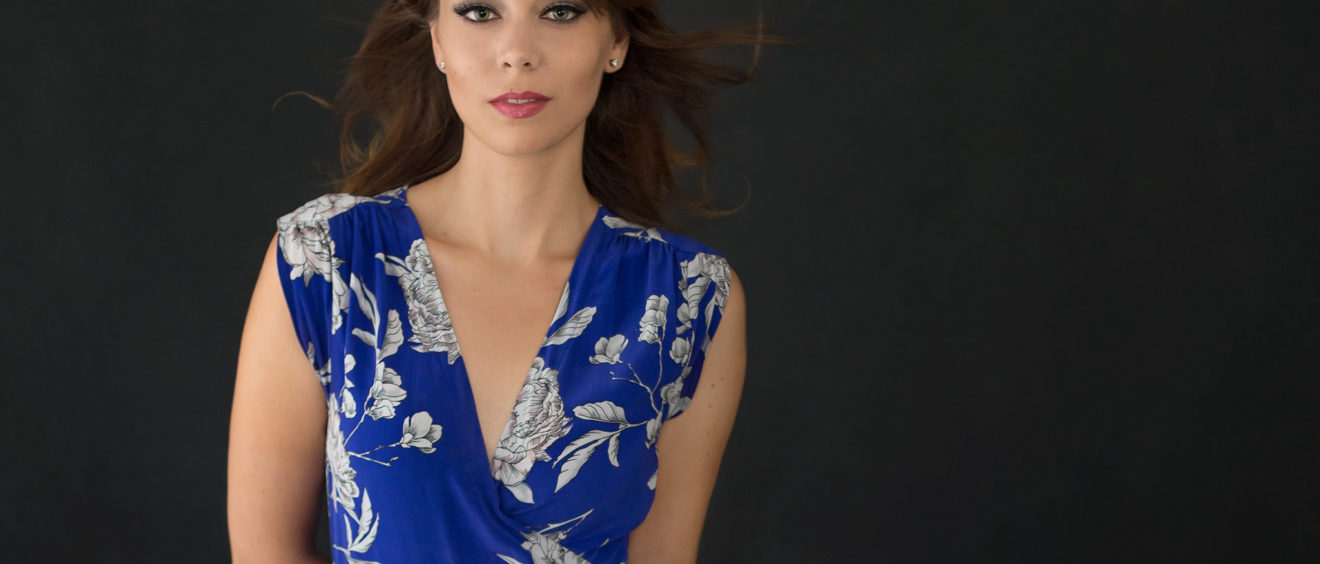 Melanie's Couture Portraits at RfR Toronto
Today's beautiful Rent frock Repeat model is Melanie Hoefs, their community manager. Very lucky community – she is lovely:)! The two of us jointly planned out how we would bring all the couture portraits to our collective fans. She was the first Rent frock Repeat team member to see all of the portraits, and share my excitement, as I finished each shoot. It is so great that Melanie could also take part in the experience. If she wasn't included on the list of models, I would have asked her to sign up!
I have been excited about sharing Melanie's couture portraits from the day that I left their showroom after the shoot. Sometimes a shoot has its own momentum, and you get to hop onboard and enjoy the adventure.
Behind the shoot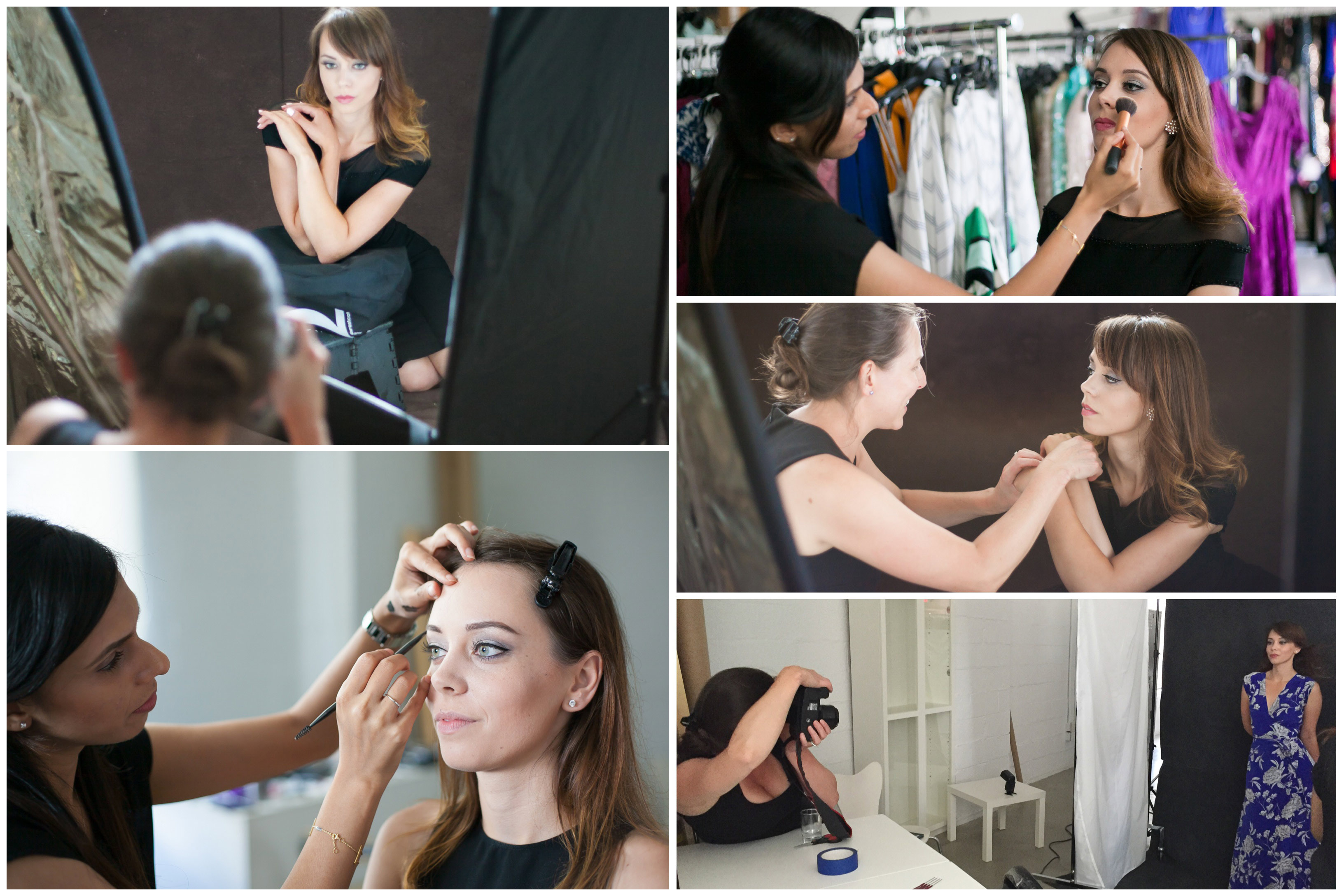 I know that our hair and makeup artist, Arwa from Brushes & Blushes also loved working with Melanie – they were chatting and taking selfies together. It makes me so happy when our whole team gels on set, because it amps up the excitement and sense of fun! It changes the day from being a photoshoot, into a girls' day out in no time.
"It was lovely to walk into the Toronto showroom and see all of the RfR ladies dazzled up in their beautiful dresses. One of my favourite parts of the experience was having my hair and makeup done. Arwa from Brushes and Blushes applied extravagant shadows and a berry lip colour – I felt so glamorous!" – Melanie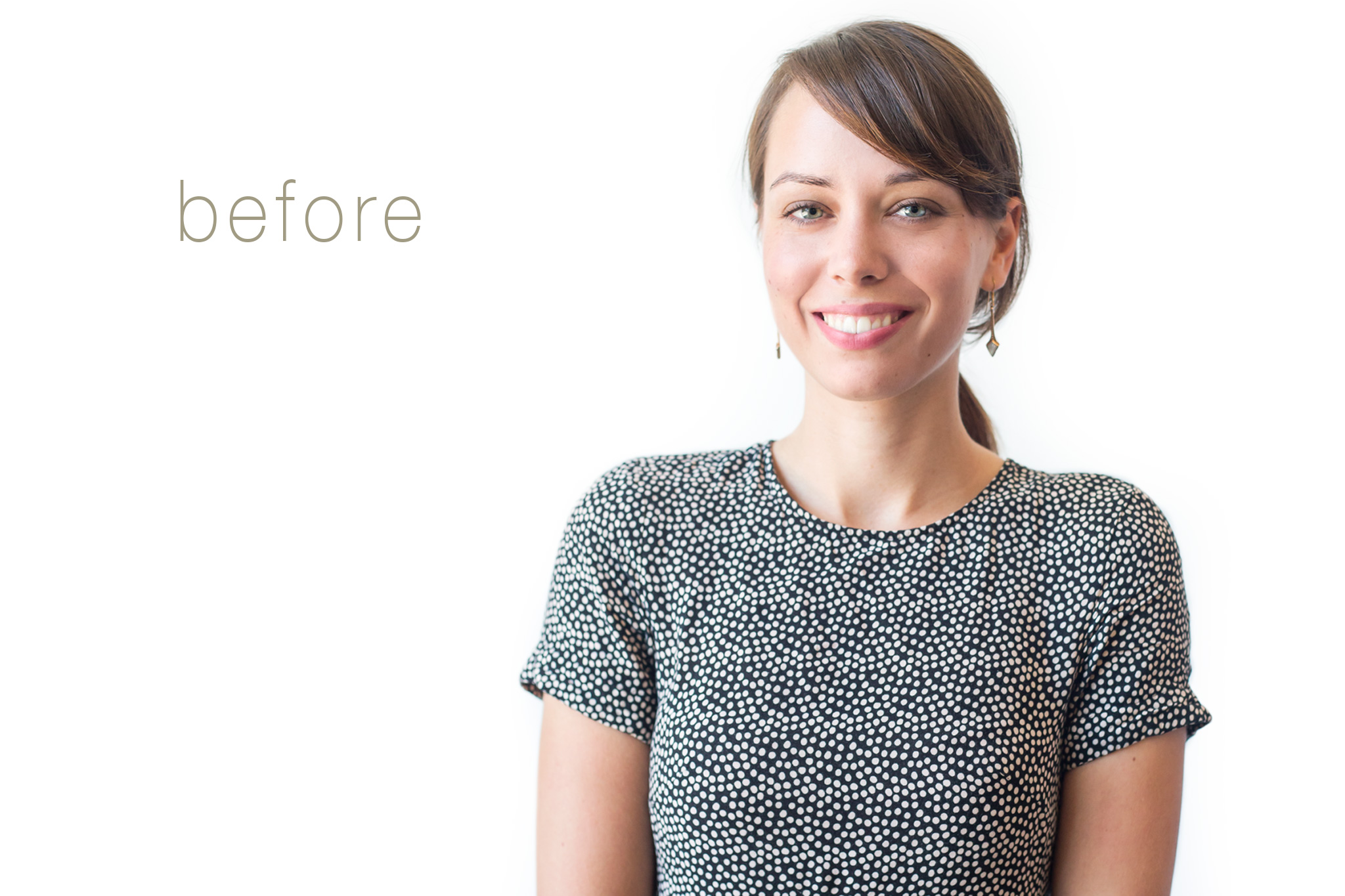 In advance of the shoots, I had all the models send me quick cellphone snaps of their chosen dresses – and I loved Melanie's choices right from the start. Her first outfit is a black embellished stretch-knit dress by Narces, which is perfect for seated poses. The detail is around the neckline, and she could easily pretzel herself into any pose that I wanted. Yay for me, hehehe! 
Couture Portraits Outfit #1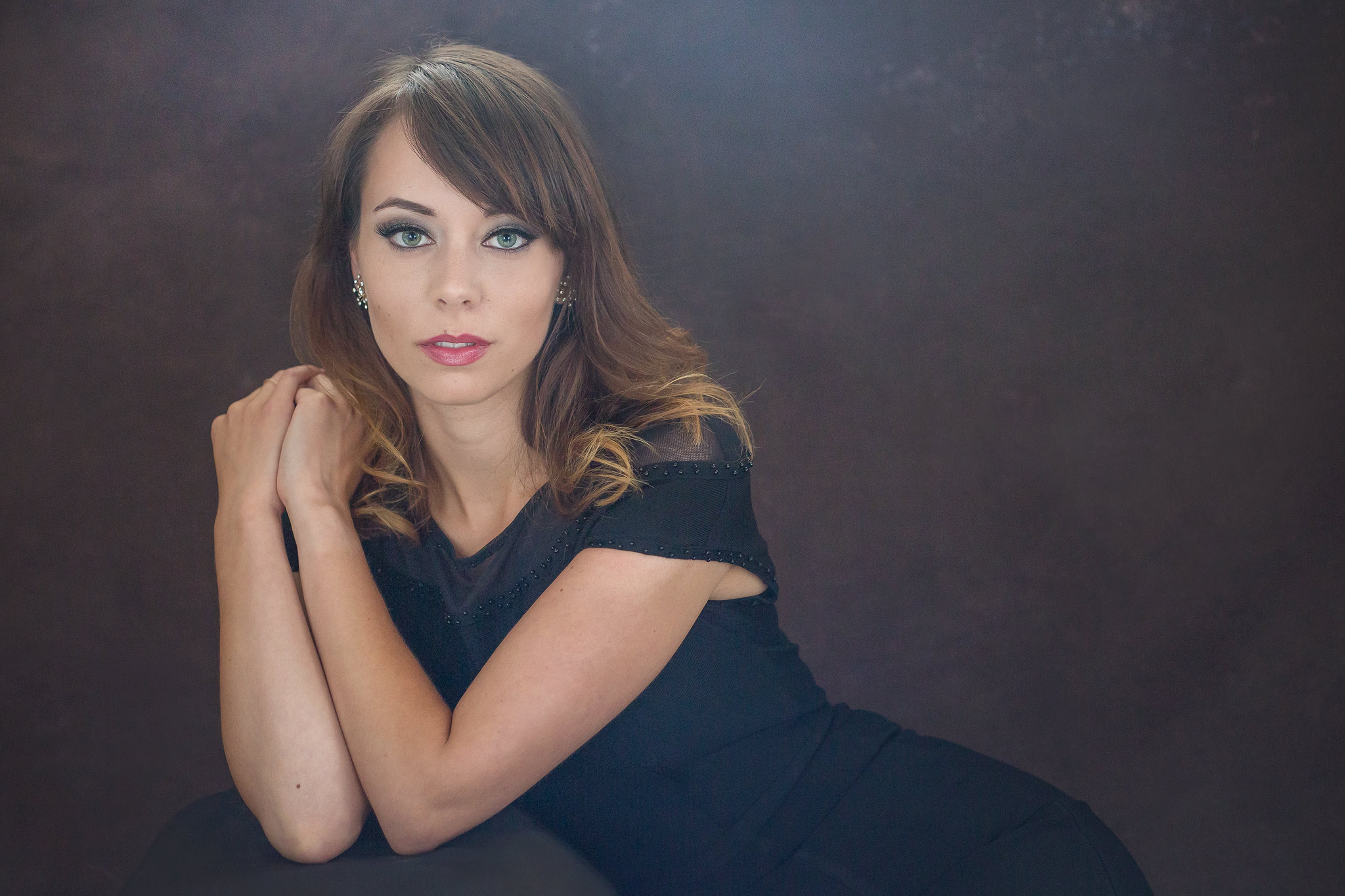 What I loved about shooting Melanie is that she was genuinely excited to try every pose, and had great ideas of her own to add to mine. At one point she pulled out her phone to show me photographs that inspire her. When I got home after our shoot, I was so excited that I immediately edited the below portrait and saved it on my phone. She nailed it perfectly, and looks beautiful!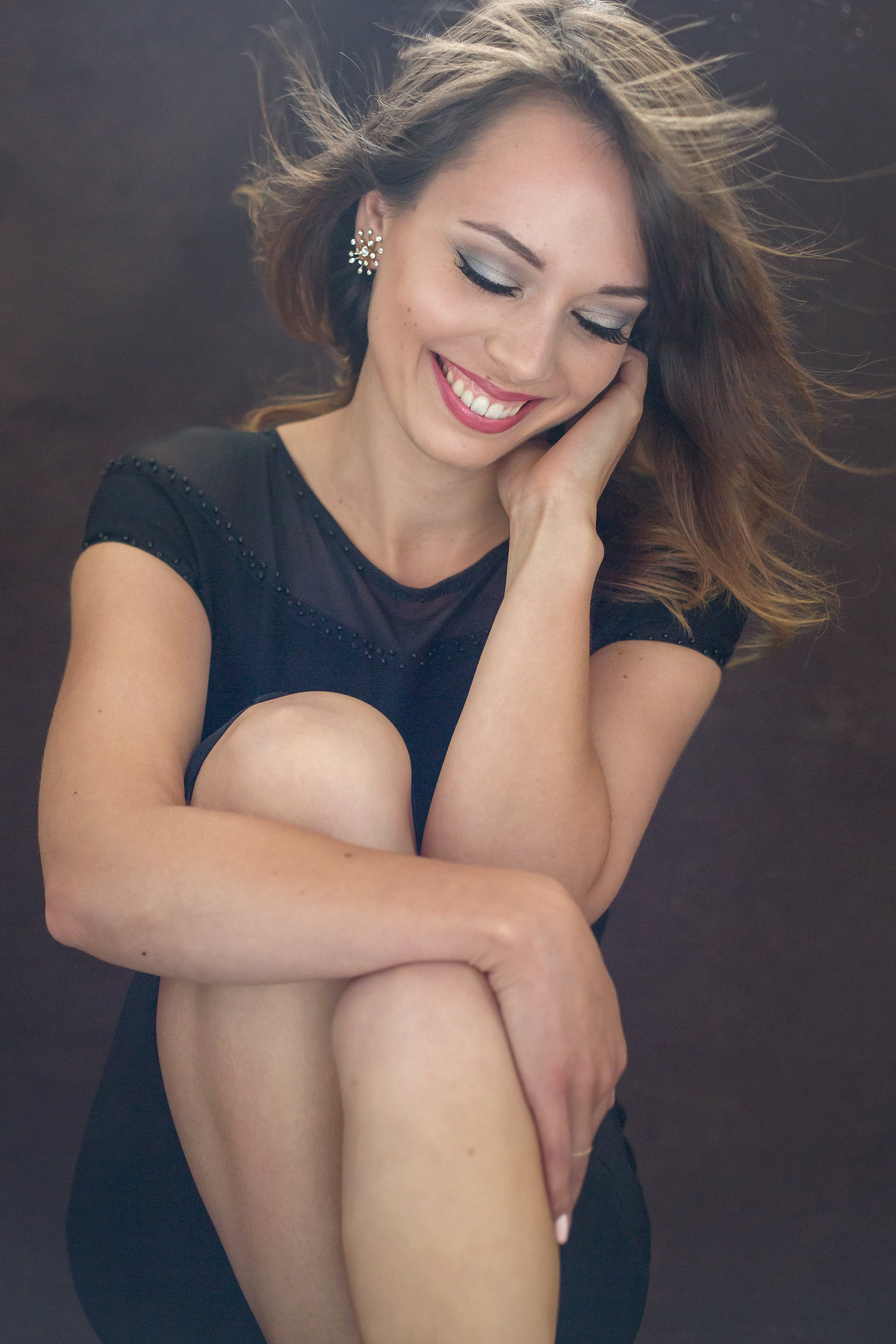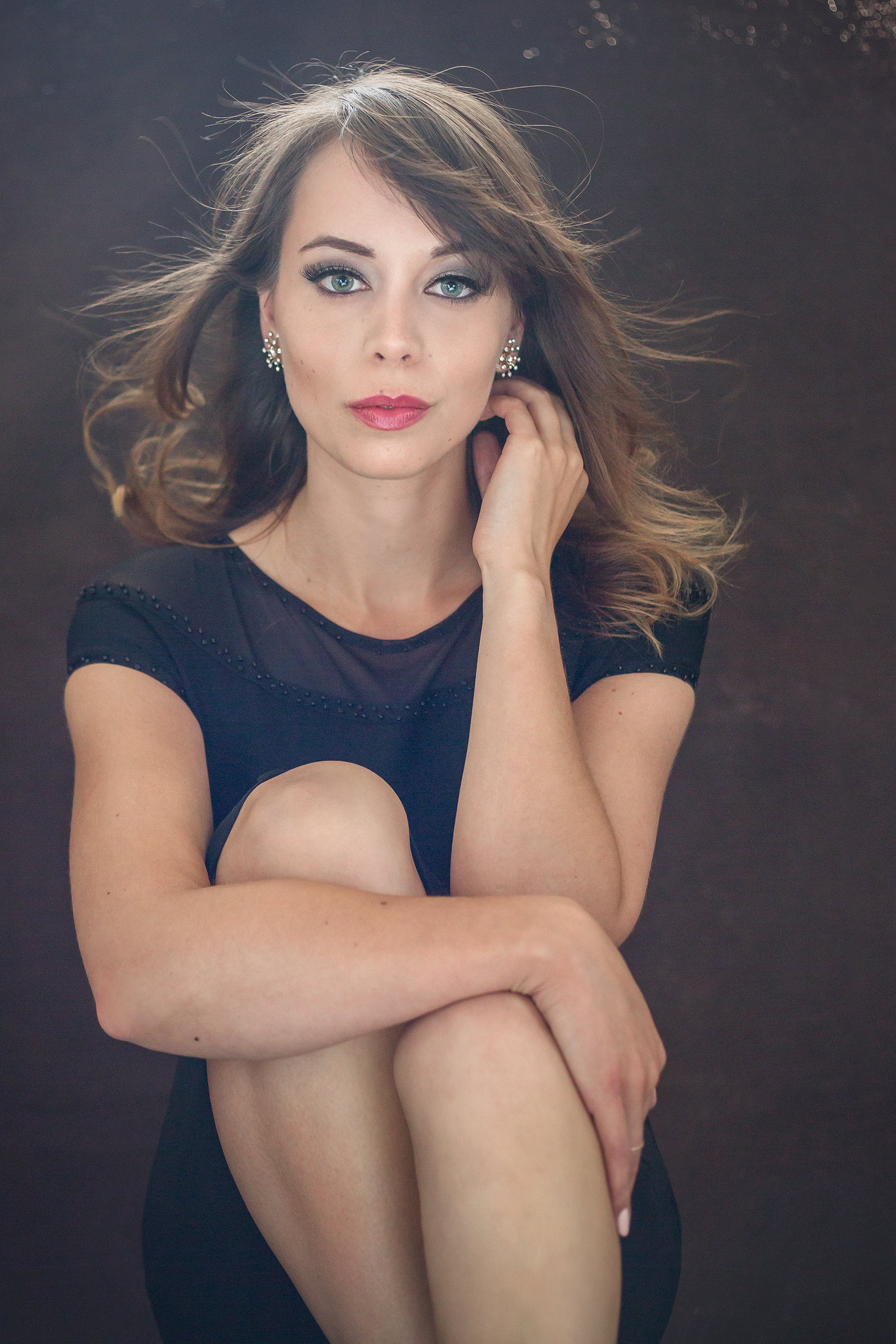 We captured a wide range of lovely facial expressions and poses, that showed off her long, lean limbs. The below pose is difficult to achieve, and Melanie makes it look easy and comfortable!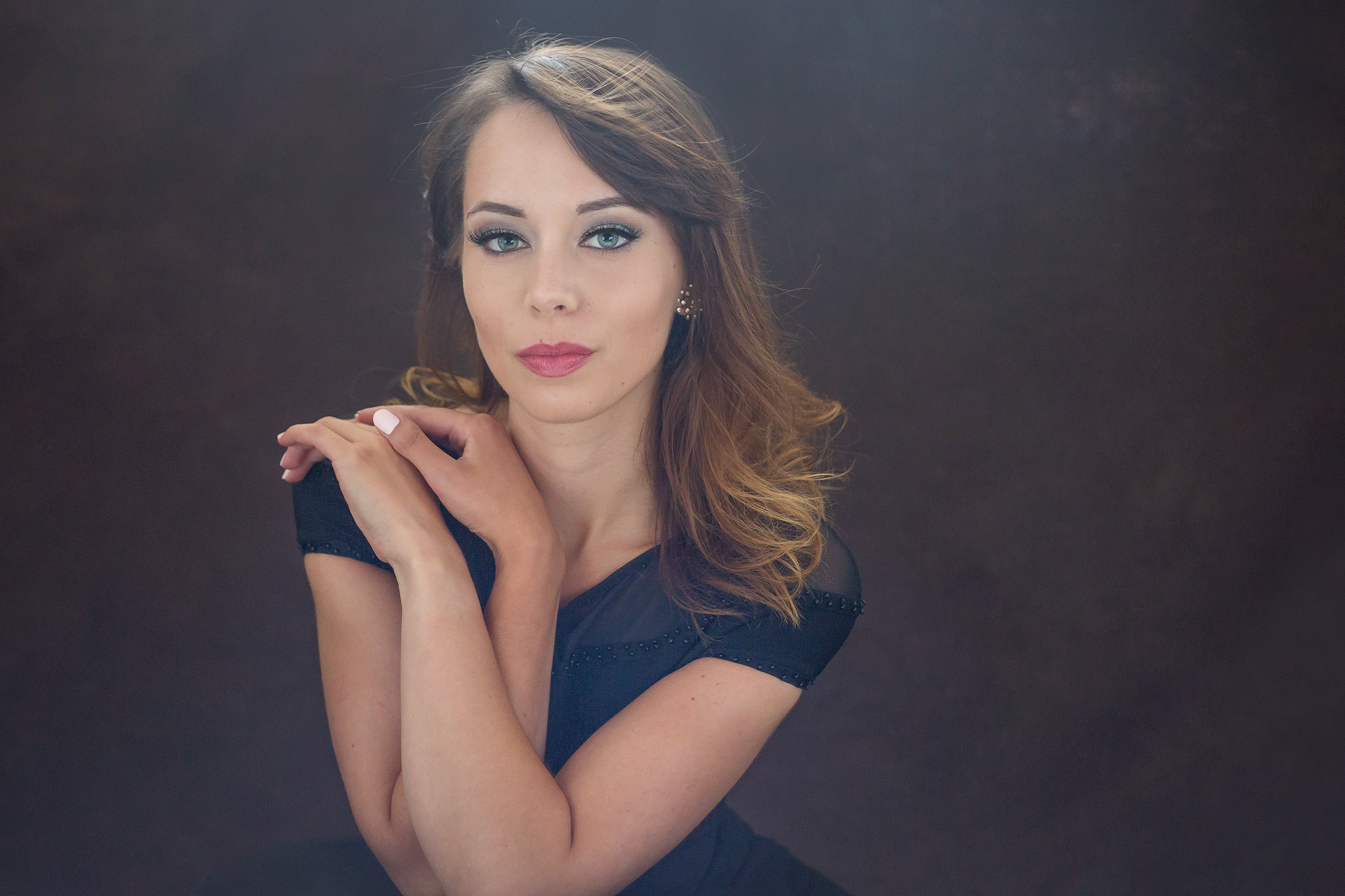 "I have been in a few shoots before with some of my close friends. What made this professional shoot so special was the attention to detail and the optimistic energy that Carole brought to the showroom. Her bubbly personality instantly makes you feel excited for each pose!" – Melanie
Couture Portraits Outfit # 2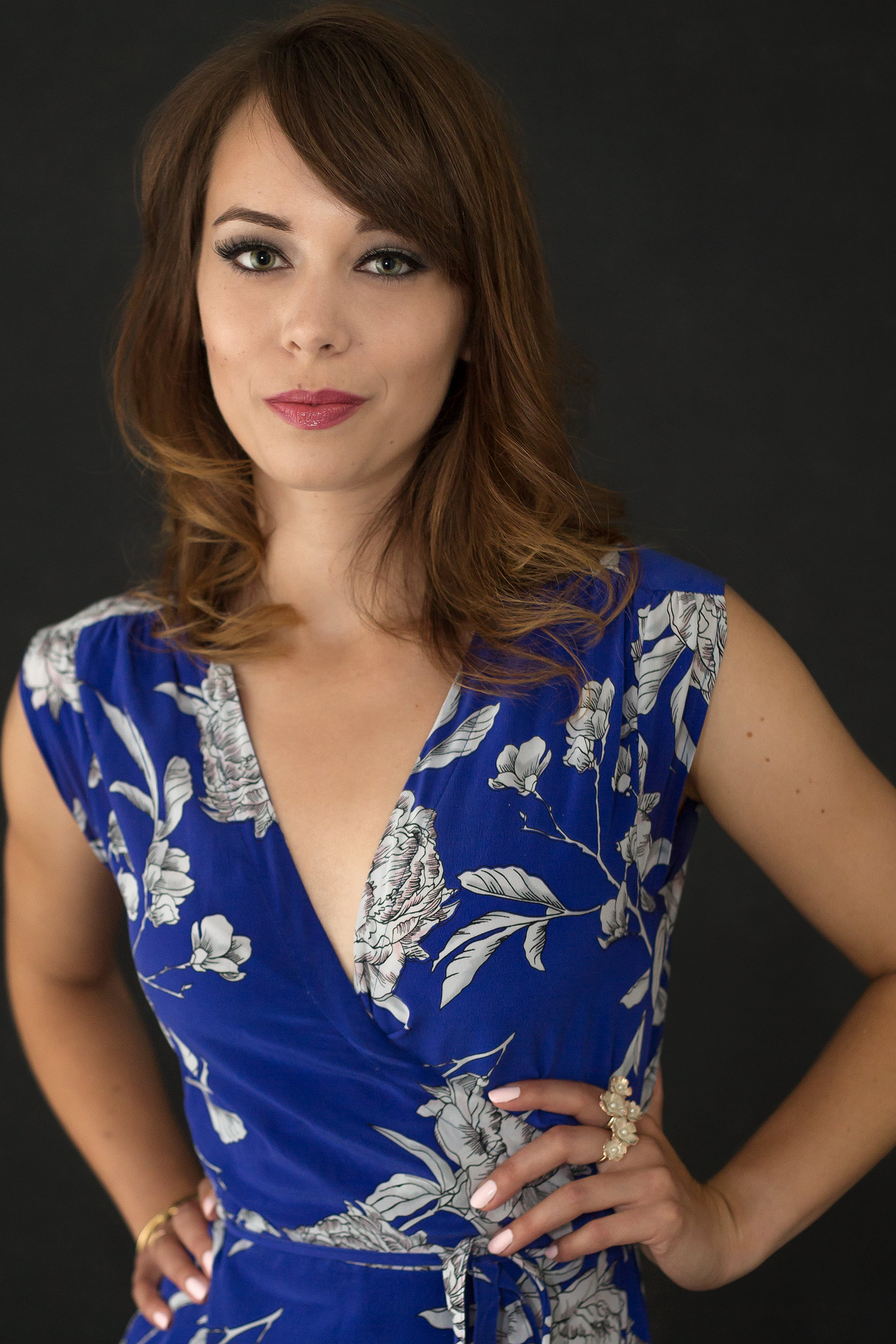 Melanie's second outfit is the gorgeous Parisian Blue and Floral Wrap Gown by Yumi Kim. It flatters her hourglass figure perfectly. This dress worked beautifully for standing poses, and we had a bit of fun with some classics on my dark grey backdrop. I love how the light picked up the bright tones in Melanie's hair, and how her eyeshadow shimmers. Melanie accessorized really well, too – I must remember to ask her about that cute floral ring! That is both a hazard and a bonus of my line of work…I shop with my eyes, everywhere I work.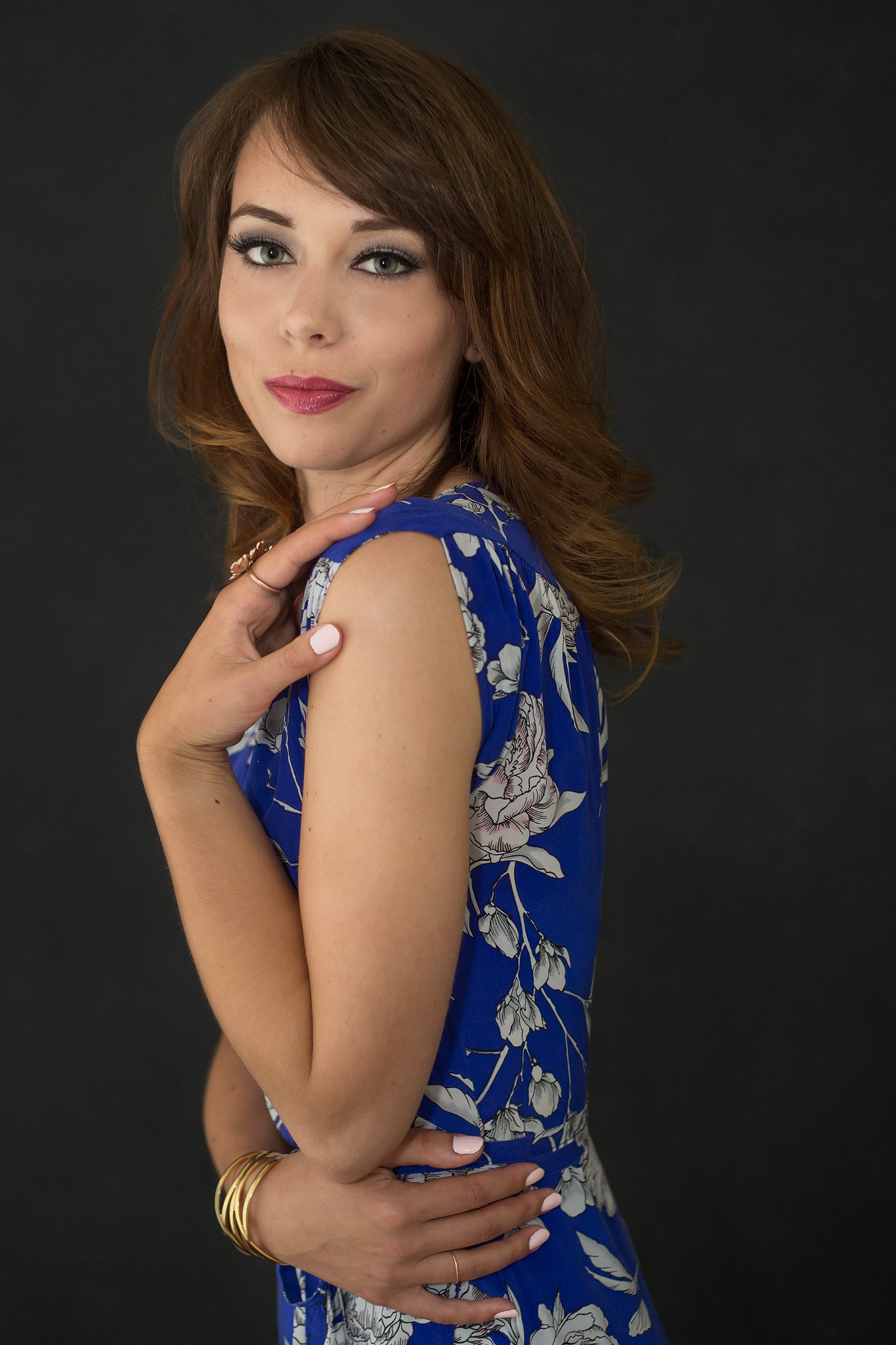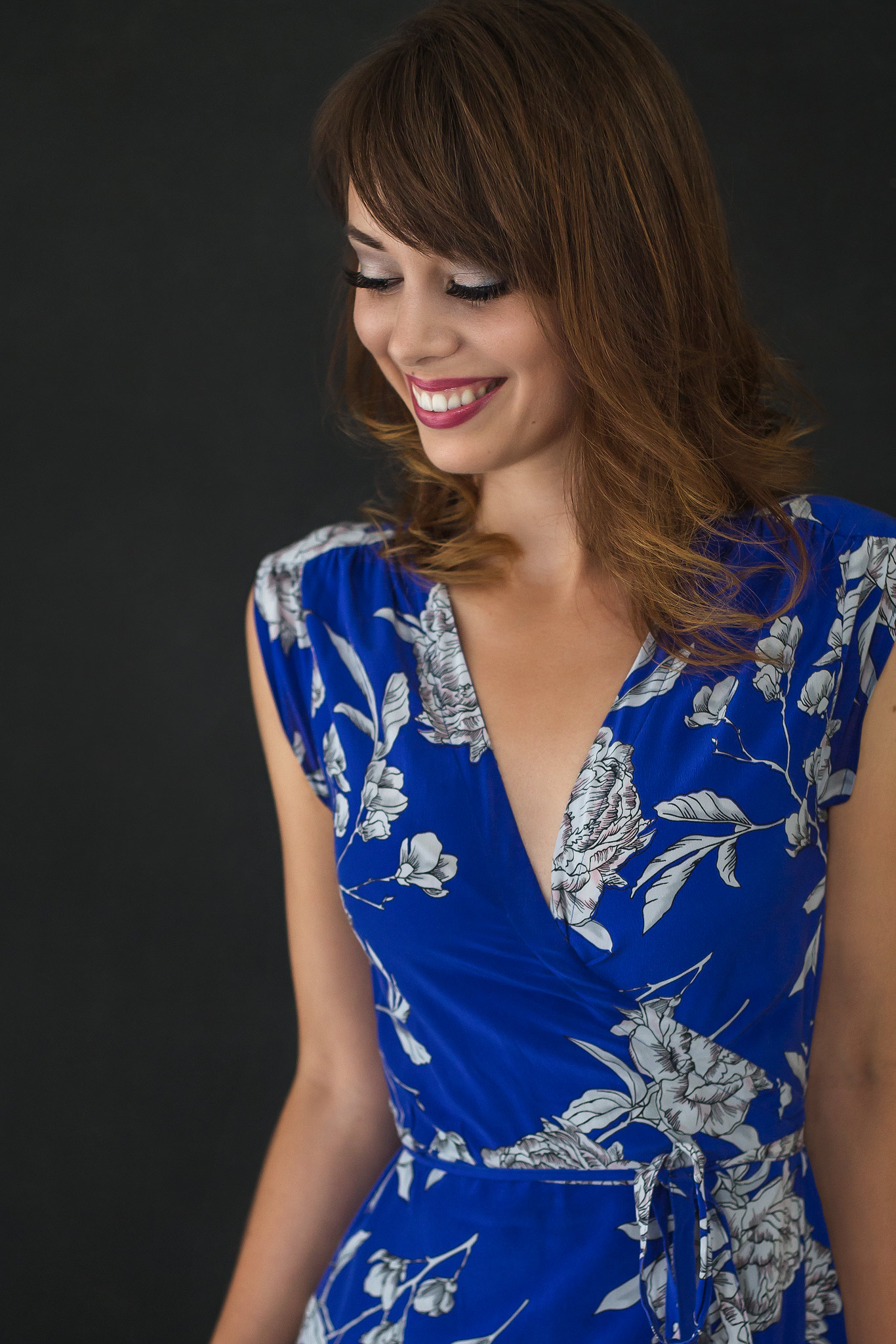 I know I say this after every post, but it was an absolute pleasure to collaborate with Melanie! Mel – I could have shot you all day long and not run out of poses to try. Thank you for bringing so much excitement and a sense of fun to your couture portrait photoshoot.
"Carole is absolutely wonderful at capturing everyone's unique personality. She really helped me warm up to the poses and feel at ease throughout the entire shoot. I would highly recommend Carole to anyone looking for beautiful photos and a truly memorable experience!" – Melanie
Check out the Rent Frock Repeat team's blog about RfR community manager Melanie's photoshoot experience: HERE
Team Credits:
Photog – Carole B Eves
Behind the Scenes photos and video – Renata Pollock Photography
Wardrobe and models – Rent Frock Repeat
Hair and makeup – Arwa from Brushes & Blushes